BLUE OCEAN STRATEGY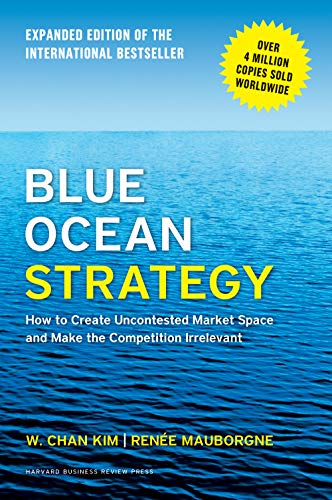 BLUE OCEAN STRATEGY - SUCCESS STORIES
DAMSON specializes in developing Blue Ocean Strategy for companies stuck in competition, facing diminishing or flat growth & revenue, shrinking profits and rising costs, and uncertain disturbances like COVID-19, Oil & Dollar price fluctuations, Stock crashes, recessions, and sustainability challenges. Blue Ocean Strategy is the solution to all of this.
Blue Ocean Strategy is about making the competition irrelevant and creating unique uncontested market-space.
Blue Ocean Strategy (the book sold 4 million copies and translated in 46 languages) remains the most global game-changing concept since its inception in 2005. The founders of the concept are Dr. W. Chan Kim and Dr. Renee Mauborgne, both jointly top with No. 1 position on Thinkers50, the ranking of most influential business thought leaders of the world, named as "Oscars of the Management" by Financial Times. Dr. Kim is advisor to European Union and Dr. Mauborgne remained advisor to former US president Barack Obama for his 2 presidential terms, and both are fellows of World Economic Forum.

Some important game changing results Blue Ocean Strategy produced:

# Four Trillion dollar companies by market cap in the global business history (Apple, Amazon, Microsoft, Alphabet)
# Justin Trudeau: Surprise success in 2015 Canadian National Presidential Elections
# Malaysia: Landmark 59% increase in Gross National Income, 78% increase in GDP Per Capita, with creation of 2 million new jobs
# Apple Inc: Unbeatable i-series (iPhone, iPad, iPod, iTunes, iOS)
# Commercial uncontested market space created by Google, Youtube, Gmail, Google Maps, Wikipedia, Viagra, Gillette, Red Bull, Tesla, Netflix, Uber, Airbnb, Amazon.com, Starbucks, BP, CAT, BASF, SpaceX, Novo Nordisk, Cemex, and many more.

Following the colossal success of Blue Ocean Strategy for Govt. of Malaysia, 23 more countries and states are officially adopting Blue Ocean Strategy as central policy to their national development plans.

The strategy is built upon 2 metaphors of Red and Blue; red, the traditional competitive markets vs. blue where blue ocean strategy makes the competition irrelevant.