AMAZON INC. BLUE OCEAN SUCCESS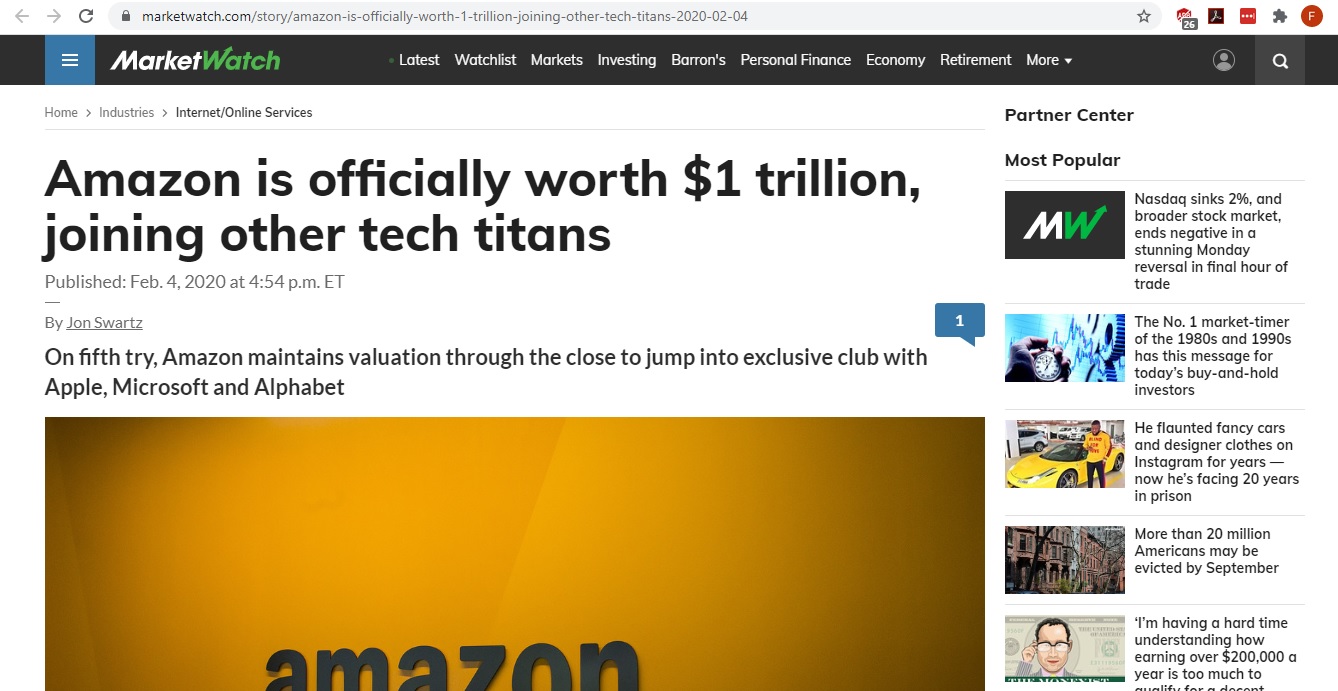 Blue Ocean Strategy of Amazon Web Services (AWS) - Leading the Cloud Computing Red Ocean

Analysis Case Study - 2013

Amazon started its cloud computing business Amazon Web Services in 2006, which that point was a disruptive innovation where in Amazon offered customers computing power and storage on demand at a low price. The Amazon Web Service (AWS) offering relies on company's core technology infrastructure that was built to drive its ecommerce business and content business, also made cloud computing cheaper and more accessible at a very large scale. Jeff Bezos took a big risk in the year 2006 and utilizing Amazon's vast experience in digital business, created a new business model for AWS and also created a first-mover advantage, and the high growth that goes with it, for the company. AWS offers its services at a drastically low prices and it initially targeted the startups that are highly price conscious, which proved highly successful as innovative web businesses like location-based social network Foursquare, document sharing site Scribd, crowd based review business like Yelp, etc. subscribed to AWS. AWS is based on Amazon strategy of not charging high initially for hardware but charge customers on long term use of the services (pay as per usage) which is a win-win for both the company and customers.

AWS has been a fast growing business within the Amazon business portfolio and it clocked revenues of $3.1 billion in 2013 and is expected to grow by 58% in 2014 according to a new estimate from Pacific Crest Securities. n a research note, Pacific Crest says it expects the business to keep growing at a clip, with revenue hitting $6.7 billion in 2015. Despite risks involved in cloud computing like cloud outages where in the websites of the companies that use AWS during outage will go down and do not function, still use Amazon's web services clearly knowing risk involved, but the incentives of quick and inexpensive forcing smaller companies and startups to gamble rather than pay more high charges for a simple guarantee their services will never go down. AWS over the years has built a significant share in the cloud computing market wherein it even attracted the Fortune 500 companies and government departments to use its services. The reason behind the AWS success can be attributed to the low pricing that the company offers its customers. Amazon web services have lowered prices 31 times since it launched in 2006, including seven price reductions so far in 2013.

The price war highlights that the cloud computing market is a red ocean where in there is serious competition from major players like Google, Microsoft, Oracle, etc. and plenty of medium and smaller players. AWS is still leading this highly competitive market and building significant revenues from this business offering. Forrester Analysts forecast the public cloud market, the market segment AWS leads will grow from $4.7bn in 2013 to $44bn in 2020 as the market shifts towards replacement of current systems which also highlights the potential the AWS has in future. Amazon is further planning to reduce pricing but increase the performance and functionality of its offerings. Amazon has implemented a rich software infrastructure to allow users access to large quantities of computing resources at rock-bottom prices. Amazon Web Services accounted for 37% of the $9 billion infrastructure as a service (IaaS) market in 2013, according equity research company Evercore. The IaaS market is growing by 45%, but Amazon Web Services has a growth rate of 60% and it built a huge computational capacity.
------------------

Blue Ocean Strategy - Amazon Kindle Fire Creating Its Own Market

Kindle Fire is multi-touch screen tablet version of Amazon's most famous e-book reader Kindle. Kindle Fire is also a classic example of Blue Ocean Strategy adoption by Amazon and Blue Ocean Strategy is creating uncontested market space and defining own set of boundaries to avoid competing with others. Kindle Fire is a 7-inch multi-touch display with IPS technology, runs on Google's Android operating system, with a price tag of US$199 and have access to the Amazon Appstore and digital content like streaming movies, TV shows, and e-books. Compared to the market leader Apple iPad, Kindle Fire is a sort of low end device as it lacks camera, GPS, storage capability, high end graphical display, powerful chip, etc. Amazon's Blue Ocean Strategy is that it tries to define its own market by targeting the non-iPad users, users who cannot afford iPad, users looking for other Android based tablets and making the competition irrelevant by making the device as a media consumption device empowered by Amazon's media platform that has huge content like music, movies, videos, books, etc. Kindle Fire differentiates itself from iPad and other tablet devices by focusing not on high end features but with simple and focused features that offers its users a unique experience and affordability. Also Kindle Fire is light weight, durable, good battery life and easy to use.

Amazon.com offers Kindle Fire at a lower price as it eliminated many costly feature like the camera, 3G, GPS, Bluetooth, etc but it offered its customers other features like its own developed web browser Silk that serves the web pages quickly using the network speed and computing power of the Amazon Elastic Compute Cloud (Amazon EC2) and the datacenters that host Amazon EC2 are run by Amazon. Low storage is compensated as the users can store their data on the Amazon EC2 Cloud, and Amazon has huge content like books, music, movies, videos, TV Shows, etc that users can easily download and play it on the device. Kindle Fire is being sold by Amazon at close to its cost and at a slight loss but it is hoping to make money through selling the content that includes 19 million songs, books, movies, applications, etc. Since Kindle fire is closely tied to the Amazon Ecosystem like Amazon.com store, cloud, content and it will be hugely beneficial to the marketers and content providers to sell their offerings easily, target customers with specific offerings, to interact and understand the consumer behavior through this. Kindle Fire also helps in increasing its core business which is e-retailing as the device provides an easy access to the store where customers can buy and sell anything and everything.

According to IDC, Amazon sold about 4.7 million units of Kindle Fire during the fourth quarter of 2011 and the device was shipped to customers from November 15, 2011. The device has boosted Amazon revenues in the first quarter of 2012 and also helped the company to double its market share of the Android based tablets market and capture more than half of the US market for Android based tablets. Kindle Fire is equipped with Web surfing, e-reading and video streaming activities that most consumers want and Amazon hopes that the device sales will help to increase digital media sales to eventually contribute a larger percentage of revenues of Amazon total revenues and the device will also helps in connecting and transacting with consumers on various other fronts. According to a study conducted by RBC Capital analyst Ross Sandler of 216 Kindle Owners, Amazon can expect to make $136 per Kindle through the life of the tablet and e-book sales will contribute most of the part. Study also found that 80% of Kindle Fire owners bought an e-book, and 58% bought three or more e-books and Sandler believes that the average Kindle Fire owner will spend $15 per quarter on e-book. Over 60% of Kindle Fire owners bought an app, and almost 50% bought three or more and Sandler believes that Kindle Fire owners will spend $9 per quarter on apps for the life of the device.

Kindle Fire has boosted Amazon revenues in first quarter 2012 and according to the company it remains the best selling, most gifted, and most wished for product on the site. Amazon also announced that in the first quarter 2012, 9 out of 10 of the top sellers on Amazon.com were digital products = Kindle, Kindle books, movies, music and apps and it highlight the importance of Kindle Fire, as it provides Amazon with a device to handle the shift from physical media products, like books, DVDs, video games and CDs, to digital versions of such content. The rise in North America sales of digital content where Kindle Fire is exclusively sold is another testimony of how Kindle Fire is going to drive sales of digital content and ultimately revenues in future. With such positive response Amazon is looking to add more digital content to its inventory and also looking to expand the sale of Kindle Fire in other countries. With more and more tablets being sold in future, Amazon can through its Kindle Fire and huge digital content inventory expects to increase the sales of both the device and content and significantly increase its revenues.

Amazon Kindle Fire - Blue Ocean Strategy - Four Actions Frame Work - ERRC Grid
ELIMINATE
RAISE
Camera

No 3G

Bluetooth

GPS

Durability

Light-Weight

Screen Clarity

Video Load Time

Speaker Quality

Contents (eBook,
Music Videos,
TV Shows)

REDUCE
CREATE
Screen Size (7")

Storage Capacity

ePub Format

Streaming Video

DRM Free Music

Flash Video

Silk Browser

Cloud Storage
-------------------
Forbes Article

It's Not About Ideas. Do What Amazon, Netflix, Uber And AirBnb Did, Head For A Blue Ocean.

Bernhard Schroeder - 11 May 2019

If you want to become an entrepreneur but don't know where to start, relax. It's not about ideas, it's about understanding and researching current industries that have not innovated their products or services and have a large customer market. If you think about what Netflix, Amazon, Uber and AirBnb did, you can clearly see, they created nothing new in terms of products. So, what did they do? They changed the "game" in an industry that was not being innovative and was ripe for disruption. In other words, they headed for a "blue ocean" made famous by management thought leaders W. Chan Kim and Renee Mauborgne in their perennial bestseller, Blue Ocean Strategy.

Blue Ocean Strategy is an approach that challenges everything that you thought you knew about the requirements for entrepreneurial success. Blue Ocean Strategy can be summarized in a nutshell: the best way to beat the competition is to make the competition irrelevant. Imagine that the marketplace is comprised of two sorts of oceans: red oceans and blue oceans.

To discover an elusive blue ocean, Kim and Mauborgne recommend that businesses consider what they call the Four Actions Framework to reconstruct buyer value elements in crafting a new innovation wave. The framework poses four key questions:

Raise: What factors should be raised well above the industry's standard?
Reduce: What factors were a result of competing against other industries and can be reduced?
Eliminate: Which factors that the industry has long competed on should be eliminated?
Create: Which factors should be created that the industry has never offered?

If you think about it, lets review what these market leaders did with Blue Ocean Strategy in mind. Amazon did not build bookstores but built an enterprise infrastructure to have access to one million book titles and competed well with Borders and Barnes & Noble. Netflix did not use stores in their business model to compete with Blockbuster; instead they focused on customer service. Uber did not even try to buy cars and compete with the independent taxi companies, they created a mobile app. AirBnb does not own homes or hotels, instead they redefined the travel experience by uniting existing property owners onto a common easy-to-use platform.

Existing marketplaces with lots of competitors live in crowded, shark-ridden red oceans. Red oceans are characterized by multiple firms offering similar products competing mostly on price. Think Target versus Wal-Mart, Sony versus Samsung. Meanwhile, blue oceans are characterized by untapped market space, demand creation, and the opportunity for highly profitable growth.

In recent years, Dollar Shave Club took on Gillette by offering subscription-based access to razors at a better cost and service. As a potential entrepreneur, just examine large industries or product lines and see if customers are happy with their current choices. Wherever you find customers are not ecstatic, dig deeper. A few years back, Chobani did the same thing to yogurt by offering Greek yogurt, more protein and less sugar. None of these examples showcase a completely new, never heard of before product. But all these companies either innovated the current product in the marketplace or they offered a simple innovation or twist to the business model for their company. In almost every case, the customer is happier with the new company or product. That means they were dissatisfied before these companies came along.

If you want to get a jumpstart on surfacing an opportunity, pay attention to something new you see (craft beer, organic pet food, cloud storage, etc.) and do some research. Or go to places where you can observe people: malls, airports, universities and just walk around. See what people are doing and not doing. Don't look for anything in particular, just observe. Another option is to walk through Target or Wal-Mart and slowly walk up and down the aisles. Look for current products that seem over priced or they don't exactly make the customer ecstatic. Then research how big that industry category actually is. If it's billions, keep going. Run a few of your best "opportunities" through the Blue Ocean Strategy framework of raise, reduce, eliminate and create.

The founders of Skullcandy did something similar by walking through Target to spot their earphone opportunity. If you want to be an entrepreneur, you have to solve a problem in a big marketplace. To spot a problem, go looking. Once you find some problems, use Blue Ocean Strategy to innovate a solution and perhaps you will create a billion dollar company.
-------------------

Amazon's Application of Blue Ocean strategy

The Global Gazzette Article (Hult International Business School)
by Charles Goulart Jr. Oct 28, 2019

Amazon has 45% of E-Commerce total market sales being 235.8 billion dollars. They disrupted the retail industry and the company keeps finding paths to disrupt their own business model. The company values are described as customer focus, passion for innovation, operational excellence and long-term thinking. These values can be observed in Amazon's history.

Amazon was founded in 1994 by Jeff Bezos. He is a challenge hunter, graduated from Princeton with summa cum laude, went to Wall Street and became the youngest senior vice president on the hedge fund. He left the fund to start working in the garage of his parent's house in Seattle. With an initial investment of $250,000 (corrected by the inflation: $421,192.59), he started what we know today as Amazon. Today the company is worth 858.94 billion dollars and is traded with a P/E ratio of 87.56

They eliminated the need for physical stores, which allows them to work with lower investments on expensive square-foot real estate because they do not need to be physically located in big urban centers. Moreover, they are open 24/7 to address their client's needs.

However, the biggest challenge of e-commerce is the delivery time. Going in the opposite direction of the market, Amazon was able to reduce the delivery time and now you can purchase a product and get it delivered to your house in 2 days with no additional cost. This was achieved by Amazon Prime, which is a premium subscription service, it started in 2005 and charges U$119 of yearly subscription from its members. According to Jeff Bezos, on the yearly investor letter of 2018, they had more than 100 million members. This is almost 12 billion dollars of inflows that Amazon can invest in the supply chain.

Amazon rose customer satisfaction to a new standard, pioneered with one-click shopping, customer reviews, and fast receipt verification on email. Amazon is more convenient than Alibaba (Market cap 390728 $Mil and 43.7 P/E) and easier to use. Furthermore, the products come from China in which it takes a longer period of time to get to the US. The website is not clear with product quantities and prices. Therefore, Amazon is the market leader.

In 2000, they created a third-party marketplace with a start at 3% of total sales and in the last fiscal year (2018) it accounted for 58% of total sales. Interestingly, Sun Tzu in the book Art of War gives the advice "keep your friends close and your enemies closer". Thus, the market place concentrates the competition under its platform: rather than incurring the costs of having a website, any company can sell through Amazon and scale the sales through their supply chain.

The inflection point was hit last year (2018), from now on the yearly operations can break even. For example, AWS (Amazon Web Services), is a marketable product, with high demand, and Amazon can supply it at one-tenth of the cost of the competition. Because they spent years on R&D, they will see the result coming out now. This product is different from the used online sales segment; however, it recalls the letter that Bezos wrote to the shareholders in 1977.

In this letter, he says that Amazon is an internet business with the purpose to create real value for the customers and that they began serving them with books. That's an important word: began. Because they have been actively looking for projects that can increase their profitability based on their large customer base.

Looking at AWS and making a projection that the net sales will grow at half the growth rate of the previous year and roll it over until 2023, it gives the result of 70,647 million. And many have been commenting on a possible IPO of AWS. This would be an incredible payoff for Amazon shareholders, and more money for investments in the database network, without compromising the cash flow of Amazon.

In conclusion, Amazon has created value innovation and for these reasons, they have a P/E ratio of 87.56 against Alibaba (36.32). Even though some might consider this P/E too high, we should look at the nature of Amazon innovation and their free cash flow. This P/E might drive skepticism on the investors' side; however, Amazon's core values are to make bold investments and jettison bad investments. In other words, Amazon is a trillion dollars startup. The question is: until what point will they be able to keep these profitability margins and if do so, will they pay dividends for the enthusiast investors that had believed in this philosophy along these twenty-five years history?
-------------------
AMAZON GO: CHECKOUT-FREE SHOPPING IS NOW A REALITY

Posted by the Blue Ocean Team | 02 August, 2020

Imagine walking into a grocery store, swiping your smartphone at the hi-tech entrance gates, picking up whatever you need, and then walking straight back out. No lines, no cashiers, nothing. Ten minutes later you're automatically charged for your items through an app that gives you a digital receipt. Grocery shopping done.

Endless lines: A major pain point of the retail industry
We all know checkout lines are a nuisance and feel like a huge waste of time. They have always been a major pain point of the retail industry that shoppers have been forced to put up with. Even when self-checkout machines were introduced, they didn't seem to solve the problem. If anything, they created additional frustration.

From constraint to opportunity
Despite all the frustration, time-consuming checkout lines have mostly been accepted as simply the way things are both by retailers and customers. That is, up until now. Amazon has just launched the world's first checkout-free store in Seattle, offering a futuristic shopping experience, arguably easier than shopping online.

So how does it actually work? Cameras and sensors track the shoppers' progress throughout the store, what they pick up off the shelves, and what they put back. Customers are then billed after leaving the store through the Amazon Go app.

By eliminating cash registers and checkout lines, Amazon has seemingly turned a major pain point on its head and changed the playing field of in-store shopping. Although some first-time customers have said that it will take some getting used to and can initially be a strange experience, a lot of people are excited about how easy and smooth it is.
Amazon has created another blue ocean using superior technology to displace an existing service - the human cashier.