CLIENTS
Worldwide clientele of DAMSON and its management include:

UK
British Airways, Henkel, IBM, Aviva, Thomas Cook, Samsung, FSA, GSK, FIAT, CNH, RCSSC, Deutsche Bank, DVB Bank, Honeywell, Invensys Rail, HP, 3M.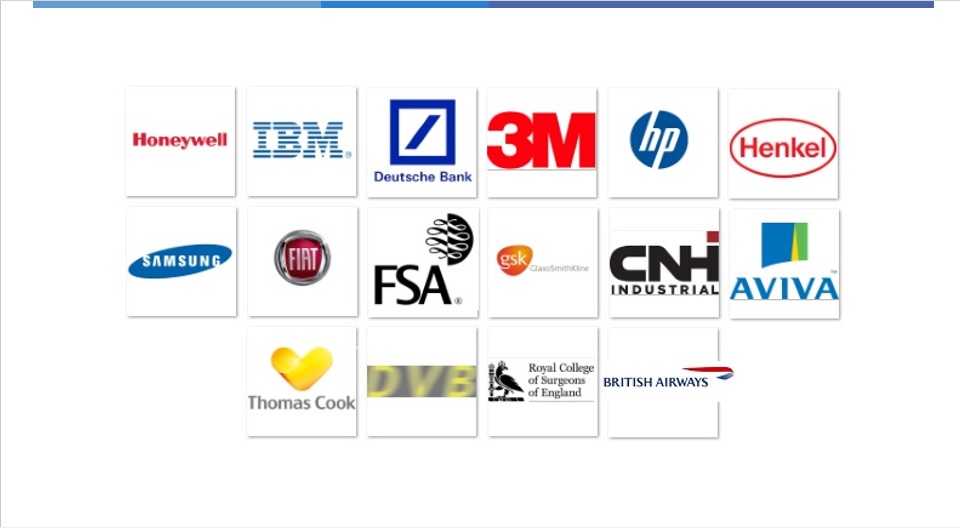 GERMANY
Microsoft, Dell, Adobe, T-System, Deutsche Telekom, Lufthansa Systems, Daimler, VolksWagen, Man, Fujistu Siemens, Accenture, Vodafone, HP, IBM, Intel, SAP, Symantec, Capgemini, Hitachi Data Systems, Hilti, Helvetia, Haspa, Sun Microsystem, VMWare, .comdirect, Die Bahn, BT, Bison, SAS, Arvato Bertelsmann, CA, EDS, Citrix, Computecenter, Ferrero, NetApp, Universitats Klinikumbonn, QlikTech, SyskoPlan, TietoEnator, Alte Leipziger, Talanx, Provinzial, Deutsche Vermogensberatung, Atos Origin, Mewa, West Lotto, Delvag, Altana, Sonic Software, a:: (Siemens), IDG, Softlab, Julich, GKSS, Solvay, SCS, Itanium Solutions, Plus, TUVRheinland, LEUG, Ante, K+S, Lurgi, Modine, Secarom, Arcor, Tandberg Data, Telekom Austria, and Deutsches Zentrum fur Luft- und Raumfahrt (DLR - German Aerospace Center).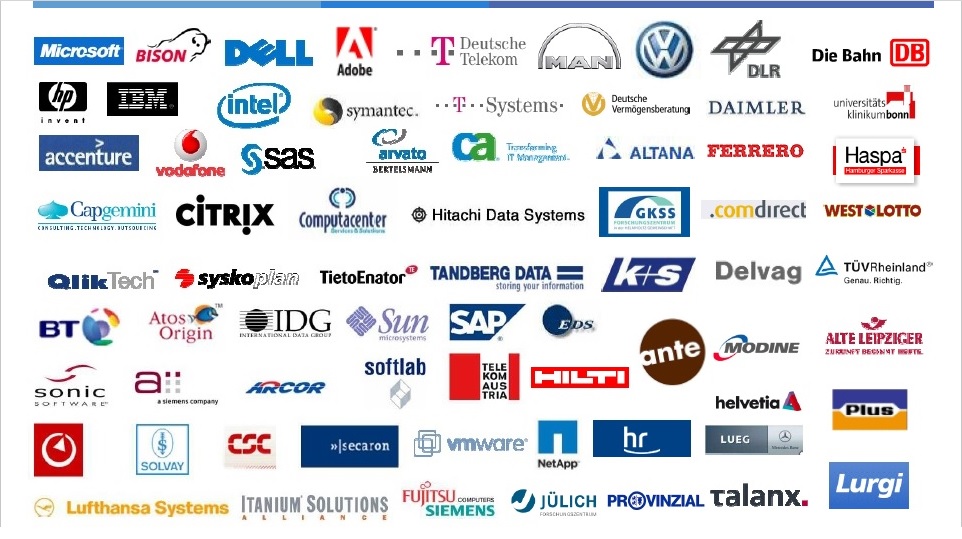 USA
Intel, Coca-Cola, Pfizer, HP, Genetech, LARK Group, ICEPCO, Autodesk, T-Mobile, Honeywell, Reckitt Benckiser, US Bank, Conexion Global, Clary Icon, Deloitte, Tyco, Virbac, Medtronic, Valvonline, Center for Non Profit Management (CNM), World Kitchen, We Group, Clary Business Machines, CalChamber, RJ Reynolds, POSCO, Keypoint, AAF, Handy & Harman, DataPath, TOLL, The Center for Wealth & Legacy, Paul L. Henney Memorial Chapel, Tecnologico De Monterey, AIM, Western Council of State Libraries, HSW, GREIF, The Ohio State Medical Center, InterCall, ASU, Califa, Center for Connected Health, NAPIM, San Diego State University, University of San Diego, Grupo Coomeva, Haines Center for Strategic Management, DeVry University, University of California Irvine, American Bar Association (ABA), Abiomed, Able To, ACS, ABMA, Adrienne Arsht Center, aetna, AIG, AMSA, American Tower, APIC, Arbill, Avnet, Better Homes, Biotronik, Bny Mellon, CEA, Century 21, Choice Hotels, Chubb, CIELO, CIBC, Cisco, Citibank, Coexpan, Coldwell Banker, Columbia Business School, Compucom, The Cooperators, Coveo, Coril, Deacom, Development Leadership Consortium, Donnelley, Electro Federation, EMA, eMoney, Entrepreneurs' Organization, ESPN, Estee Lauder, ERA, FCC Services, Federal Mogul, FEI, FIU, Garmin, Gazelles, GE, Harvard Business Review, HDI, Glass, Google, Growth Summit, IAP, Imex Group, IMS, Johnson & Johnson, Kellogg's, Kraft, Larson Juhl, L'Oreal, Lockheed Martin, Macmillan, Magrabi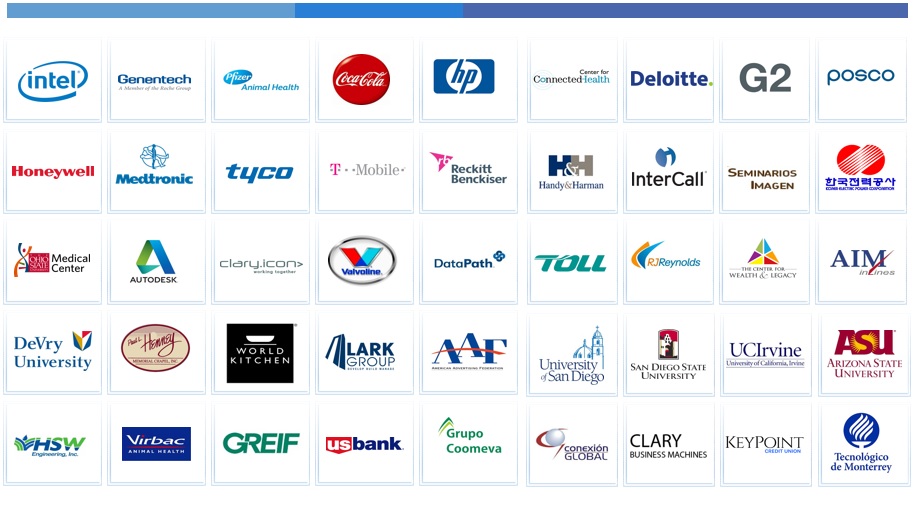 ROMANIA
ACT Legal
UAE
Ministry of Presidential Affairs Abu Dhabi, National Archives Abu Dhabi, Dubai Municipality, Dubai Chamber, Dubai e-Government, Dubai Courts, Dubai Airports Company, Dubai Aviation City Corporation, Emirates Air, Dubai World Trade Center, Tourism Development & Investment Company, Road & Transport Authority (RTA), Emaar, Gulf News, Al-Tayer, Ras-Al-Khaima e-Government, Cisco, Accenture, Collax, Veritas, StorageTek, Siemens, Masafi, Oracle, Novell, SyskoPlan, Nycomed, Cognos, Computacenter, dbus, Compredndium, Trivadis, Hessischer Rundfunk, Controlware, EMC2.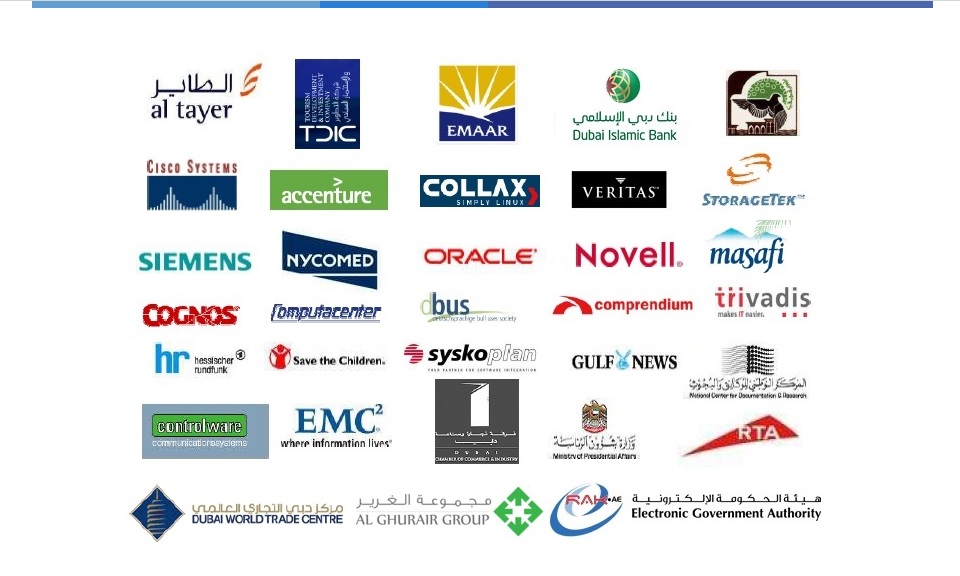 PAKISTAN
Oil & Gas Development Company Limited (OGDCL), Pakistan Telecommunication Company Limited (PTCL), Space and Upper Atmosphere Research Commission (SUPARCO), Pakistan Engineering Council (PEC), Ignite - National Technology Fund, Universal Service Fund (USF), Ministry of Information Technology, Pakistan Mineral Development Corporation (PMDC), Higher Education Commission (HEC), Army Welfare Trust (AWT), Pakistan Natural History Museum, National Commission on Human Development (NCHD), National Council for Social Welfare (NCSW), Rural Support Programme Network (RSPN), Pakistan Institute of Engineering and Applied Sciences (PIEAS), Deloitte, SLS Schools System, Exuberant Group, Coffee Luccio, Dr. A.Q. Khan Schools & Colleges, Australian Institute of Information Technology, Top City-1.