APPLE INC. BLUE OCEAN SUCCESS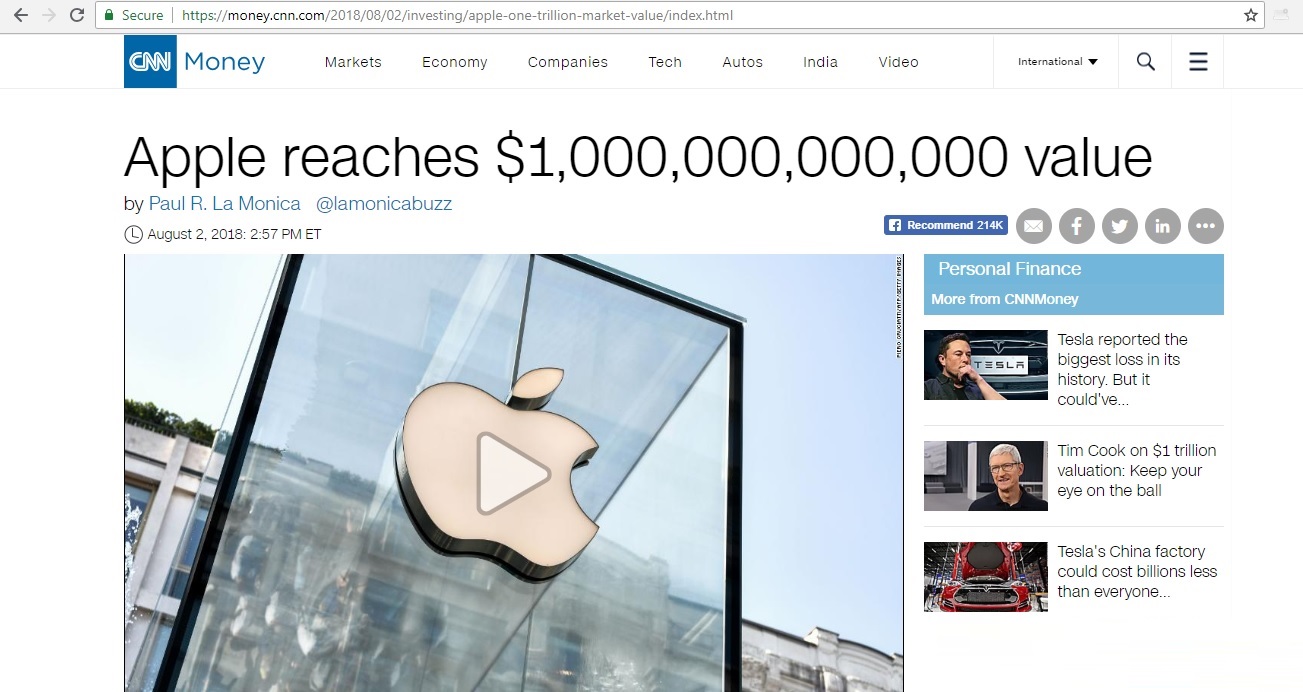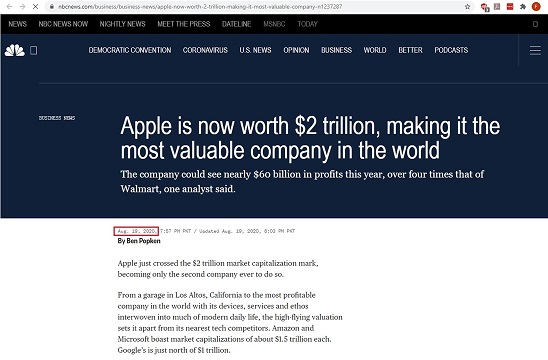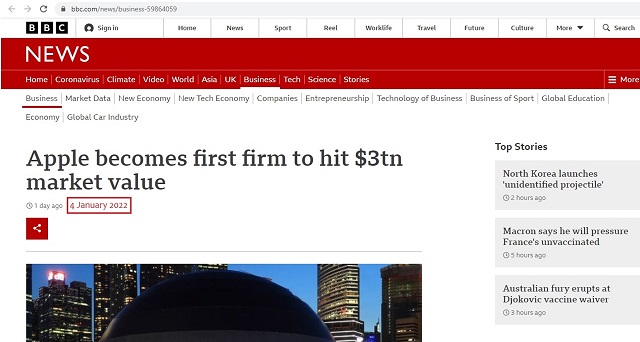 Think Different: Apple's Blue Ocean Formula for Success

The strategic thinking behind the world's most innovative company

Written by The Blue Ocean Team
The Blue Ocean Team shares case studies, stories and practical insights related to the blue ocean tools and principles developed by Chan Kim and Renee Mauborgne.

It's been almost a quarter of a century since Apple's iconic 'Think Different' ad campaign, which captured in two simple words Apple's vision for the company in 1997. The tagline, which continues to resonate to this day, helped launch one of the biggest corporate turnarounds in history.

As we shall see, Apple's 'think different' slogan also captures what it means to have a blue ocean perspective. In this blog post, we'll explore how Apple's 'think different' approach led the company to make a series of strategic moves that reconstructed whole industries and changed the world.

Think different: think like a blue ocean strategist

Developed by professors of strategy and world-renowned management thinkers Chan Kim and Renee Mauborgne, blue ocean strategy, enables you to ask a fundamentally different set of questions, the answers to which help reveal the long-held assumptions and artificial boundaries we unknowingly impose on ourselves. When you think like a blue ocean strategist, you can't help but 'think different'.

Blue ocean strategists aren't fooled by what the rest of the world takes for granted. Their viewpoint differs from the market-competing logic that is prevalent in the minds of many corporate leaders and entrepreneurs. They think differently, ask different questions, and arrive at different results. Arguably, no one exemplifies this blue ocean way of thinking more than Steve Jobs.

Apple's 'Think Different' campaign transformed the company

Jobs was not a conventional corporate leader. In 1997, just months after returning to Apple as interim CEO, he re-visited the company's core beliefs and formulated a clear statement of what the company stood for. This came to light when Apple launched a global campaign called 'Think Different', which portrayed its products as innovative and unorthodox, in line with its new brand identity.

The 'Crazy Ones' commercial linked the ailing computer business with some of history's most famous freethinking rebels. It celebrated individuals who saw things differently, ranging from Albert Einstein and Thomas Edison to Pablo Picasso and Amelia Earhart. These are the 'blue ocean' thinkers and creators, innovators and adventurers who challenged existing laws and refused to stand still.

The message behind Apple's 'Think Different' slogan

The tagline of Apple's 'Think Different' campaign expressed how, under Steve Jobs' leadership, Apple would construct a radically different future from its troubled days in the early 1990s.

Apple's 'Think Different' slogan altered our perceptions of campaigns, advertisements, posters, and, of course, computers and technology. Here's the transcript from the 'Crazy Ones' advertisement:

"Here's to the crazy ones. The misfits. The rebels. The troublemakers. The round pegs in the square holes. The ones who see things differently. They're not fond of rules and they have no respect for the status quo. You can quote them, disagree with them, glorify or vilify them. About the only thing you can't do is ignore them. Because they change things. They push the human race forward. And while some may see them as the crazy ones, we see genius. Because the people who are crazy enough to think they can change the world are the ones who do."

The message communicates to customers what Apple stands for by celebrating and linking Apple to those innovators who moved the world ahead. The inference is that Apple users also think different, ask different questions, and potentially change the world.

In Steve Jobs' own words, "you always had to be a little different to buy an Apple computer."

"I think you had to really think differently when you bought a Mac. It was a totally different computer, worked in a totally different way, used a totally different part of your brain. And it opened up a computer world for a lot of people who thought differently ... And I think you still have to think differently to buy an Apple computer."

Apple now had three characteristics of a good strategy: it was focused, divergent, and had a clear and compelling tagline. From this point on, the company made several strategically critical and distinctive moves that transformed Apple from a struggling tech company into the biggest and arguably most influential company in the world.

The Power of Thinking Differently - Apple's Blue Ocean Strategic Moves from 2001 to 2011

Throughout history, companies have created growth not by exploiting existing demand but by reconstructing existing industry boundaries to create new market space and unlock latent demand. We call such actions, blue ocean strategic moves, a set of managerial actions and decisions involved in making a major market-creating business offering.

Apple's strategic moves over this decade took the form of the iPod, iTunes, the App Store, the iPhone, the iPad, and more. Rather than trying to outrun competitors in existing industries, all these strategic moves created new market space, generated new demand and made Apple the most admired and valuable American company within a decade.

Apple may not have been the industry's first mover, but it was the value pioneer that pushed the industry's frontiers outward and tapped latent demand.

Let's look briefly at two of these strategic moves before taking a more in-depth look of one of them, the iPhone.

Think different, listen different: The iPod

In the late 1990s, music began to migrate from stereos to computers. Users increasingly downloaded music to their PCs over file-sharing networks and then copied it to portable MP3 players.

By 2001, over 75 manufacturers offered about 100 MP3 players. However, users had to choose between small, low-volume flash memory players and huge, high-volume, difficult-to-use hard drives.

On October 23, 2001, Apple released the iPod with the tagline, "1,000 songs in your pocket." The iPod had the storage capacity of a hard drive player but was also simple to operate and transport. Unlike most MP3 players, the iPod allowed users to navigate hundreds of songs intuitively with their thumbs.

It was a huge hit and dominated MP3 player sales. iPods made up 21.6 percent of the global digital music player market in 2003, and sales accounted for nearly half of Apple's $7.1 billion in first-quarter revenue in 2007. By 2010, Apple had sold over 297 million iPods and had a 70% market share, reconstructing the digital music player industry in the process.

Think different, shop different: the iTunes music store

By the late 1990s, the music industry had seen significant changes. Why visit record stores when you could order CDs from internet sellers such as Amazon.com? Or even better, just download songs in digital format and play them on a variety of audio devices.

People had two options when it came to obtaining music online. There were file-trading networks, like Napster and Kazaa, which allowed users to search for and download songs from other people's music libraries.

An alternate means to download music without infringing on intellectual property rights was to subscribe to online music services. Although subscription-based music services delivered legal, high-quality music, they had a restricted selection and limited permissions to play it. Meanwhile, P2P networks offered a larger range of music for free, but the downloads were frequently of poor quality and unlawful.

Despite a clear and irreversible new trend in the way consumers purchased music, record labels lacked the foresight to capitalize on it, with many predicting the failure of the music industry altogether.

In blue ocean terms, it uncovered insights into observable trends that others were missing. Chan Kim and Renee Mauborgne write in Blue Ocean Strategy:

"Three principles are critical to assessing trends across time. To form the basis of a blue ocean strategy, these trends must be decisive to your business. They must be irreversible, and they must have a clear trajectory."

Seeing the huge, untapped demand for legal, high-quality digital music, Apple focused on making an online music store that was easy to use, offering legal and high-quality digital music at a reasonable price.

By allowing people to buy additional songs and strategically pricing them far more reasonably, iTunes broke a key customer annoyance factor or pain point: the need to purchase an entire CD when they wanted only one or two songs on it.

Apple debuted iTunes Music Stores in April 2003. The online store allowed customers to buy a song for 99 cents without having to subscribe. Moreover, customers could listen to a 30-second sample of each music before purchasing it, something unheard of in the industry.

The results surpassed all expectations. In the first week after its inception, Apple sold one million songs. By 2006, Apple had an 88 percent dominance of the legal music download market in the United States. It had reconstructed the digital music industry.

Think different, everything different: the iPhone

Phone manufacturers were facing a red ocean of competition by the early 2000s. Each worked on developing technology to make their phones more appealing. To create phones with more functionality, manufacturers merged MP3 players, game consoles, and digital cameras before adding email, calendar, internet browsers, and other desktop-like features.

Apple took a different approach. Rather than making the mobile phone smarter by adding more hardware features (such as a high-resolution built-in camera, email push key, and so on), Apple invested in developing a more reliable operating system and more intuitive user interface, making it easier for people to use their mobile phones effectively. By eliminating, reducing, raising, and creating factors that the industry competed on, Apple reconstructed the mobile industry to create a product a revolutionary new product.

Let's look at one of the key blue ocean strategy tools, the Eliminate-Reduce-Raise-Create (ERRC) Grid. Developed Chan Kim and Renee Mauborgne, the ERRC Grid is one of many tools featured in their global bestsellers Blue Ocean Strategy and Blue Ocean Shift.

ERRC Grid of the iPhone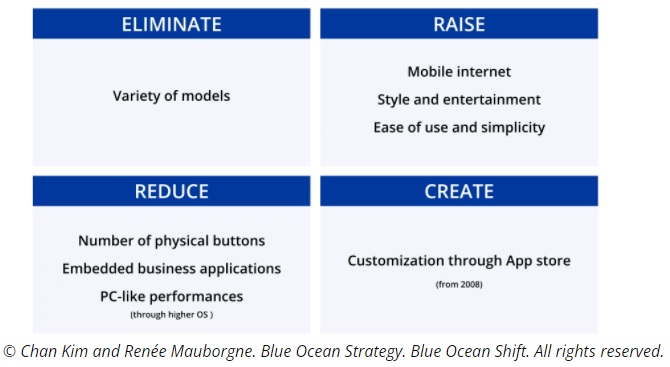 Apple unveiled the iPhone to the world on January 9, 2007. The device had many of the standard smartphone add-ons, but what set it apart from the competition was its simple user interface, with only four buttons and touchscreen instead of a physical keyboard.

Additionally, Apple hosted a marketplace for mobile 'apps' made by Apple or third-party programmers, allowing users to customize their phones to reflect their specific interests. Although the idea of a mobile app marketplace wasn't new, the App Store provided the first dependable service with a diverse selection of high-quality apps.

Using iTunes, iPhone owners could rapidly explore, purchase, and download apps, transforming their iPhone into more than simply a voice and text communication device. It could also function as a handheld gaming console, photo editor, or journal.

The App Store, which debuted on July 10, 2008, had 400,000 third-party and Apple apps accessible. By the 22nd of January 2011, the App Store had surpassed 10 billion downloads. The iPhone and App Store brought tremendous success and made a fortune for the company.

Let's take a look at another blue ocean strategy tool, the Strategy Canvas, that shows in one picture the current state of play in the handset industry. You can clearly see how Apple's iPhone strategy is different from that of its competitors.

Strategy Canvas of the iPhone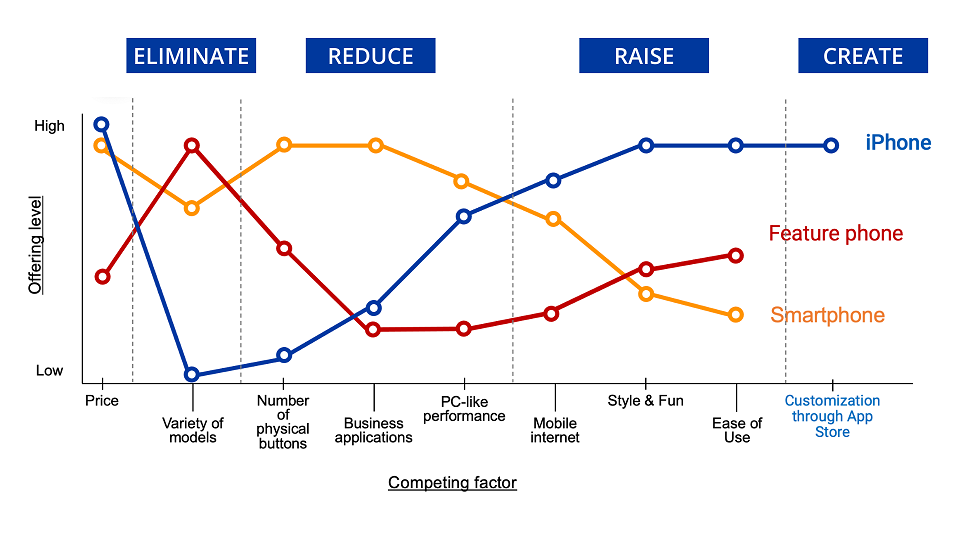 Apple's 'Think Different' approach reconstructed market boundaries

Today, Apple is arguably the world's most famous and admired technology company. But it is not the technology that is at the root of the company's success. Rather, the technology used by Apple serves to provide unprecedented value to its customers. In blue ocean terms, it is value innovation, not technology innovation that makes Apple what it is.

Apple reshaped market boundaries by providing extraordinary breakthroughs in buyer value, something that can be done systematically when applying blue ocean strategy's Six Paths Framework. It is a tool you can use to look across six conventional boundaries of competition to systematically reconstruct market assumptions to create new market space.

Apple demonstrated that by redefining industry boundaries, strategy can overcome structural challenges. It overturned the common assumption that industry conditions determine a company's strategy.

Take MP3 players. Even though the industry appeared to be profitable, there was no clear winner until the iPod bridged the gap between the strategic groups of flash memory players and hard-drive jukeboxes.

Or consider how it assessed trends across time. When the music industry was in freefall due to the widespread distribution of digital music, Apple created a new market sector with the iTunes Music Store, which provided unrivaled value in the purchase of digital music at a low price.

Instead of contending for existing demand, the iPod, iTunes store, iPhone, Apple's many other offerings all took a similar strategic approach. They reconstructed existing market boundaries and created new demand.

Apple case study
The Apple case study is discussed in depth in Blue Ocean Strategy and Blue Ocean Shift books. Check them out for a more thorough analysis of Apple's 'think different' strategy through a blue ocean lens.
-------------------
3 Stocks That Followed Blue Ocean Strategy: What's in Store?
Nasdaq
Published: Sep 17, 2015 5:00 AM EDT

In a competitive market, as the battle for survival gets murkier with intense price wars and diminishing technological barriers, companies are increasingly devising newer avenues to outsmart rivals. These include out-of-the-box ideas for innovative product concepts to redefining the corporate strategy within a framework in accordance with the changing dynamics of the customers.

In this regard, 'blue ocean strategy' has been one of the much acclaimed tactical moves adopted by diversified companies to gain a competitive advantage over peers. The term is coined from the book "Blue Ocean Strategy" penned by W. Chan Kim and Renee Mauborgne. Before we seek some classic examples as to how some companies have benefitted from it, let us dig a little deep to get an essence of this strategy.

A Brief Synopsis of the Strategy

The concept exemplifies a typical scenario in the real world, where intense competition leads to bloodbath and thereby renders an ocean red. Instead of viciously fighting against each other to gain market share, companies therefore should create an 'uncontested market space' or rather a blue ocean, which is pristine and pure and devoid of any interference or competition.

The strategy is likely to be successful as it would simultaneously attract a large chunk of customers as well as raise the cost of competition with a first-mover advantage. Whether it's a new product altogether or an existing product refurbished with some added features or services, the uncontested market space is likely to have a better emotional connect and create a new value curve for the customers.

Various companies have successfully found this elusive blue ocean and have been able to fend off competition against the odds. Here we take the examples of three diverse firms to showcase the efficacy of this strategy.

Tesla Motors, Inc. TSLA : This automobile manufacturer that sells battery-charged electric cars created a blue ocean for itself by designing a car that integrates the features of a green vehicle with that of a high-octane driven premium sports vehicle. The company redefined the industry metrics with Tesla Roadster, a lithium-ion battery fuelled car that clocked 0-60 mph in 4 seconds with zero emissions and a sports-car look.

The Roadster hit the markets in 2008 and was the first highway-capable all-electric vehicle in serial production for sale, which eliminated fossil fuel usage and related high maintenance costs. Although electric cars occupy a small portion of the global automobile market, Tesla has acquired substantial market share within this niche segment. Its subsequent car Model S was the best-selling electric vehicle in the U.S. in the first half of 2015.

Tesla delivered a record high of 11,532 vehicles in the second quarter of 2015, representing a year-over-year improvement of 52%. The company anticipates annual sales of 500,000 units by 2020. Thereafter, Tesla hopes to double its production every year for a few years to attain annual sales of several million vehicles by 2025.

Starbucks Corporation SBUX : The speciality coffee provider was able to develop an uncontested market space by redefining the mundane coffee drinking experience into an ingrained way of customer life. This was achieved by refurbishing the ambience with music, Wi-Fi, relaxed seating and luxurious interiors that served a perfect occasion for customers to socialize with friends and relax at a slightly premium price. Along with the unique 'me-time' experience, Starbucks created a new value proposition for its customers with focus on mobility and social media by introducing the Mobile Payments Application.

Starbucks holds a leading position in digital, card, loyalty and mobile capabilities through wide proliferation of smartphones and mobile technologies. At present, more than one-third of all the U.S. and Canada transactions take place through Starbucks cards. At the end of June 2015, the company had over 10.4 million active members in the U.S. under My Starbucks Rewards (MSR) program, up 28% from the last year. Moreover, Starbucks' mobile app is reportedly one of the most widely used mobile payment apps in the U.S.

In an interview, Kim observed: "What they (Starbucks) are really selling is atmosphere. By changing the atmosphere in which coffee is sold, Starbucks created an uncontested market and made the competition irrelevant."

Apple Inc. AAPL : This famed electronics goods manufacturer eked a new chapter in its history by shifting its business from computer manufacturing to disruptive innovations like iPod, iTunes, iPhone, iPad, iCloud. These devices have since been an integral and essential part of our lives.

With ingenious products that are based more on functionality and usability, Apple creates technological innovations that customers least expect, focuses on its unique selling points to build a need and scales up production before competitors could react. This enabled the company to gain a competitive advantage over its peers and create a niche market when supply exceeded demand.

Apple's growth story was perfectly summed up by Kim, when he remarked: "By making a series of blue ocean strategic moves such as iPod, iTune, iPhone, and iPad, Apple not only achieved sustained profitable growth, but also revitalized the declining consumer electronics industry. Apple achieved its success not by investing in what was hot in the marketplace, but by making strategic moves to lead and shape the evolution of a declining industry."

What Lies Ahead for These Game-changers?

In a comparative study, all these stocks have performed relatively better than the benchmark S&P 500 index in the last five years. Tesla recorded a phenomenal 1,204.7% average return, followed by 338.3% by Starbucks and 178.6% by Apple compared with a 73.7% return by the S&P 500. In addition, Tesla has a long-term earnings growth expectation of 25.0%, while Starbucks and Apple have 17.6% and 14.1%, respectively.

These metrics give us enough confidence about the long-term potential of these Zacks Rank #3 (Hold) stocks. Therefore, shouldn't these stocks form an integral part of your portfolio?

-------------

How Apple's Corporate Strategy Drove High Growth

Apple's success is self-evident. They are one of the most accomplishing companies in US history. Through Blue Ocean Strategy, Apple is able to refresh and renew its corporate portfolio to achieve a healthy balance between the businesses of today and those of tomorrow, starting with the iMac and coming to the modern era, maintaining a balanced business portfolio. Enabling red ocean products, to feed new, blue ocean initiatives - is the key to the success of any organization. There are many blue ocean moves that contributed most to shaping Apple, navigating between blue ocean and red ocean strategy for today's performance and tomorrow's profitable growth.

Apple is a great example how a business can articulate the strategic logic across its business divisions. Apple created future profits and growth not by exploiting existing demand, but by reconstructing industry boundaries to create new market space and unlock latent demand. As a result, the company's value grew exponentially as the total market value of a firm reflects not only today's performance but also its future profitability.
---------------------------

Blue Ocean Strategy - The Case of Apple - iPod and iPhone

Centre for National Culture

There are four underpinning principles that every organization employing the blue ocean strategy must follow and these principles include:

(i) How to create uncontested market space by reconstructing market boundaries
(ii) Focusing on the big picture
(iii) Reaching beyond existing demand and
(iv) Getting the strategic sequence right

It is imperative for any organization to know that a good strategy for its market must be influenced by the thought of value innovation (Kim and Mauborgne, 1997). Here, the organization under study is Apple Incorporation.

History of Apple Inc.

Apple Inc. is a company located in the United States of America. The company was founded by Steve Jobs and Steve Wozniak on 1st April, 1976. The company was first into just the manufacturing of computers and software. Steve Wozniak manufactured the first computer with a typewriter-like keyboard and the ability to connect to a regular TV and when Steve Jobs saw the device, he was impressed with it and so decided to sell his VW microbus to help fund its production as well as Wozniak selling his HP calculator and that is how Apple Computer Inc. came to fruition and the name of the company was suggested by Steve Jobs. Apple Inc.

The company's first computers were manufactured by hand by Wozniak. The first computer was named Apple I and was priced at $666.66 and a deal made with Byte Shop to serve as its seller by supplying it with 50 computers at $500 each. The company sold around 200 units from April, 1976 and September, 1977 before Apple I phased out. Later, Apple Inc. made Apple II and this time with better features such as a storage, color graphics. The company created a blue ocean for itself with the manufacturing of Apple II because as at the time, most computers had visible boards and wires that connected the various components to the motherboard but it had manufactured a low heat-generating switching power supply that gave way for the computer to be placed in a plastic case and this later led to the emergence of desktop machines through the last two decades of the 20th century. In a period of 16 years of which Apple II was in existence, it sold around 6 million units making it a massive success.

Apple Inc. later began to manufacture Macintosh though it was producing the Lisa software and computers. Later, the company manufactured its mouse after Jobs saw the three buttons mouse which was much simpler and less cheap than the Alto's mouse back then. The company capped its mouse at $15 as compared to the $300 Alto's mouse. By 1984, Apple Inc. had proven that it was a company to reckon with by its then competitor, IBM because it had two products - Lisa and Macintosh which had a 3.5 inch disks in them. Macintosh was a low-cost computer for both home and business usage. The computers manufactured by Apple had the graphical user interface (GUI) then which no computing company had and that distinguished it from IBM causing a blue ocean scenario.

After a success in the computing industry, Apple broaden the blue ocean strategy and religiously applying the blue ocean concept. Early in the 21st Century, Apple under Steve Jobs moved into the technological industry more aggressively since leadership is a key component in strategizing and achieving success. The company under Jobs created an uncontested marketspace when it introduced iTunes digital jukebox software in January, 2001 and later the same year on 23rd October, it launched the iPod. The iPod is a device that serves as a portable media player and also served as a multi-purpose pocket computer. The device launched in 2001 initially offered people the opportunity to download songs of about one thousand just on a single device when at that time most devices could not facilitate the allowance of downloading and storing about a thousand songs on a single device that also portable and could be taking anyway to the extent of keeping it in one's pocket. The iPod was later created by Apple when the organization started to produce softwares for the expanding market of personal digital devices. Digital cameras, camcorders and organizers had established mainstream markets yet the company still could find a loophole in the system leading to its reason for manufacturing the iPod. The picture Apple had was how to solve this problem since it considered existing digital music players (Walkman) as either big and chunky or small and useless with awkward user interfaces; though Apple did not develop the software of iPod entirely in-house.

As the device started reaping in revenue, the company modified the interface of the iPod and in 2007, it again re-modified the interface again and the device to not only take songs but also photos and videos. This time around, by splitting the screen in half by displaying the menus on the left and album works, photos or videos on the right. Later, it allowed for third party application on to the device from companies.

Apple in 2005 announced that it will infuse its systems into vehicle brands including Mercedes-Benz, Volvo, Nissan, Toyota, Alfa Romeo, Ferrari, Infiniti among others though it had started with BMW; also other independent stereo manufactured integrated iPod-specific integration solutions and they included Kenwood, Sony and Harman Kardon. In mid-2007, four major airlines, United, Continental, Delta and Emirates also reached agreements to install iPod seat connections too freely to allow passengers to power and charge their iPods.

With the idea of Apple Inc. going into telecommunication also expanding its created Blue Ocean. Apple Inc. works with the aim of differentiation and focuses on customers more than competition. It manufactured products that whip up demands from customers rather than chasing demands. The company's venture into manufacturing phones was influenced by Steve Jobs asking the company's engineers to investigate touch-screens and tablet computers. The iPhone was manufactured and its concept was influenced by the company's Newton Message Pad manufactured in the mid 1990s. Apple manufactured iPhone because it believed cell phones are important devices for portal information access and therefore there is the need for mobile phones to have excellent synchronization software. The company announced the launch of the device on January 9, 2007 at the Macworld Convention and later on June29, 2007, it officially launched the phone. In that same year, it signed an agreement with AT&T formerly called Cingular to sell it devices to its customers and yet retained complete control over the design, manufacturing and marketing of the iPhone. When the iPhone got launched, there were rumors that it will start at $1000 but it started at $499 and after its manufacture, all employees of Apple Inc. were given an iPhone. When it launched the iPhone, it sold between 200,000 and700,000 units in the first week. This is due to the uniqueness of its brand and design of the device. On June11, 2007, it announced that iPhone would support third-party applications using the Safari engine on the device. Today, Verizon has an agreement with iPhone whereby it sells iPhones for Apple and so there is the Verizon iPhone and it went on sale on February 10, 2011.

Due to the blue ocean created by Apple, the phone is available in most countries including Africa as a continent and can be accessed by any network as against only AT&T as at 2007.
----------------------------

Apple Watch is Blue Ocean Hitting Switzerland

Scott Barron - Mar 20, 2015

In light of the geography, it's big news that a blue ocean is frightening Switzerland.
Swiss watchmakers are facing a new, though not unexpected, threat from the Apple innovation tsunami. Like the music and book sellers of old, this is a game-changing moment for the time keeping industry. Those disrupters from Cupertino are at it again, and the insights for school designers are numerous.

Blue Ocean Watches - Of course this isn't the first digital competition in the intricate world of watch-making. Those with a few gray hairs will certainly remember the Texas Instrument watch back in the 70's. Those red little number were so cool, and it could be a stopwatch and an alarm, too! My friends were so impressed with it. Those were the days...

Back to the Future
Samsung, Pebble, Sony, LG, and many others have been selling "smart-watches" for at least a few years. What's so great about the Apple Watch? The difference is in the purpose and design. Apple's goal is to save time not just track time, and that functional purpose is enough to send tremors of competitive fear throughout Switzerland and the rest of the industry.

Early users of Apple Watch say they spend significantly less time on their actual phones, which means they don't get suckered into another game of Words With Friends or the latest Facebook updates after making a call. Loss of focus and increased distractions are the biggest drains on productivity due to mobile usage, but these people have found that using their Watch actually reduces this down time. What a great excuse for buying a new Watch!

Swatch is most concerned about the threat posed by Apple. Over the last few years Nick Hayek, the CEO of Swatch, bemoaned the small screens and lack of elegance common to previous versions of the digital chronometer. Now that he's facing lost revenue of over $500 million this year alone, however, he has changed his tune, succumbing to the pressure by announcing Swatch's digital response to the Apple Watch.

The Blue Ocean in Switzerland
Other watchmakers like Patek Philippe and Mondaine Watch are also being forced to compete based on Apple's strength in consumer technology design. That's called Blue Ocean Strategy--where the goal isn't to beat the competition, but to make them irrelevant--and it's going to happen more frequently in the education space.

Blue Ocean Strategy is a path that more schools are considering because they recognize that their strengths and assets allow them to redefine the way they can deliver an outstanding educational experience for the students in their target market. Their value proposition is no longer defined by tradition but rather by strategic devotion to their students. The design of their schools, especially the faculty culture, reflects a devout dedication to purpose rather than compliance.
----------------------------

iTunes - Apple's iTunes has opened a blue ocean in the field of digital music, and it has also made the successful iPod player more attractive.

Apple has seen that since the late 1990s, with the help of file sharing programs such as Napster, Kazaa and LimeWire, the sharing of illegal music files has become widespread. By 2003, more than 2 billion illegal music files were traded every month. Although the recording industry has worked hard to combat illegal copying of CD records, the download of illegal digital music continues to grow.

Since everyone can use existing technology to download music for free, the development trend of digital music is self-evident. The rapid growth in demand for mobile digital music MP3 players confirms this trend, including Apple's hot-selling product iPod. Following this important trend with a clear development trajectory, Apple opened the iTunes online music store in 2003.

iTunes has reached an agreement with five major record companies (including BMG, EMI, Sony, Universal Music Group and Warner Music) to provide users with legal, convenient and flexible on-demand music download services. On iTunes, the buyer is free to browse 200,000 songs, listen to them for 30 seconds, and then download them for 99 cents for a single or $9.99 for the entire album. By allowing customers to buy singles and implementing a very reasonable pricing strategy, iTunes solves an important problem for customers: customers may only like one or two songs on the CD, but they have to buy the entire CD.

Customers have turned to iTunes, and record companies and artists have also become beneficiaries. Through the iTunes model, every time customers download a song, they can get 65% of the price. They finally profited from the digital download frenzy. In addition, the copyright protection measures adopted by Apple further protect the rights of record companies. These measures not only did not cause trouble for post-Napster users who have been accustomed to freely downloading digital music, but also made the recording industry happy.

Today, the iTunes music store provides more than 8 million songs for people to download. It is the largest music retailer in the United States, with more than 5 billion songs sold.
----------------------------

Blue Ocean Strategy of Apple Inc. - Essential to Survive in Crowded & Oversupply Market

By Analysis Case Study

Apple with its disruptive innovations like iPod, iTunes, iPhone, iPad, iCloud have not only fascinated the customers but also made these devices an integral and essential part of their lives. Customers feel Apple products as completely new despite the fact that smartphones, MP3 players, online music stores existed even before Apple developed them and also customers feel Apple products and services resolve problems and make their lives better. Apple markets its products based on functionality and usability not on the technical specifications of products as compared to its competitors the technical specifications are weak. For example iPad processor compared to competitor's tablets is comparatively slower but Apple focused on the thinness and light weight of product to cover the weakness. Apple has also been successful to take advantage of its ecosystem and offer products that seamlessly worked and made the customer's life easier. Apple initially began as Personal Computer manufacturer like Macintosh computers but now its product portfolio is dominated by iPhones, iPads and iPods. It is also argued that Apple is more a design-driven company rather than a technology-driven company and it created products that are far beyond customer's expectations and thinking. Basically Apple creates a product that customers do not expect, build a need for the product among customers and quickly scale up the market and in between make life difficult for their competitors as competitors struggle to keep up with Apple's products thereby losing market share to Apple.

In an interview published in Forbes, Dan Schawbel interviewed W. Chan Kim, the BCG Chair Professor of Strategy and International Management at INSEAD, Co-Director of the INSEAD Blue Ocean Strategy Institute and co-author of Blue Ocean Strategy Book, said "Our study shows that blue ocean strategy is particularly needed when supply exceeds demand in a market. This situation is applying to more and more industries today and will be even more prevalent in the future. Let me illustrate this using the example of Apple. The company was once a PC maker in a mature and unattractive industry. By making a series of blue ocean strategic moves such as iPod, iTune, iPhone, and iPad, Apple not only achieved sustained profitable growth, but also revitalized the declining consumer electronics industry. Apple achieved its success not by investing in what was hot in the marketplace, but by making strategic moves to lead and shape the evolution of a declining industry. From the perspective of blue ocean strategy, companies seeking profitable growth should not focus their efforts on identifying an existing lucrative market, but should set out to create and capture one." Apple has consistently redefined the industry boundaries, created uncontested market space and its products and services always focused on delighting customers and making them essential part of their lives. Apple products eliminates the problems, raises the functionalities and expectations of customers, reduces the problems of usage and creates a need for the customer and make them use their products for long time. Apple profitability and revenue growth can be directly attributed to Blue Ocean Strategy and company constantly needs to find Blue Oceans in Red Oceans so that it continues its profitability growth. Without its charismatic founder Steve Jobs, company has to continue its journey of creating new products and services and fascinate customers.

----------------------------

Forbes Article:
Surface 3 and Apple Watch - Red Oceans v Blue Oceans Strategy

Adam Hartung - Apr 2, 2015

Microsoft launched its new Surface 3 this week, and it has been gathering rave reviews. Many analysts think its combination of a full Windows OS (not the slimmed down RT version on previous Surface tablets,) thinness and ability to operate as both a tablet and a PC make it a great product for business. And at $499 it is cheaper than any tablet from market pioneer Apple.

Meanwhile Apple keeps promoting the new Apple Watch, which was debuted last month and is scheduled to release April 24. It is a new product in a market segment (wearables) which has had very little development, and very few competitive products. While there is a lot of hoopla, there are also a lot of skeptics who wonder why anyone would buy an Apple Watch. And these skeptics worry Apple's Watch risks diverting the company's focus away from profitable tablet sales as competitors hone their offerings.

Looking at these launches gives a lot of insight into how these two companies think, and the way they compete. One clearly lives in red oceans, the other focuses on blue oceans.

Red Oceans vs Blue Oceans and business strategy

Blue Ocean Strategy (Chan Kim and Renee Mauborgne) was released in 2005 by Harvard Business School Press. It became a huge best-seller, and remains popular today. The thesis is that most companies focus on competing against rivals for share in existing markets. Competition intensifies, features blossom, prices decline and the marketplace loses margin as competitors rush to sell cheaper products in order to maintain share. In this competitively intense ocean segments are niched and products are commoditized turning the water red (either the red ink of losses, or the blood of flailing competitors, choose your preferred metaphor.)

On the other hand, companies can choose to avoid this margin-eroding competitive intensity by choosing to put less energy into red oceans, and instead pioneer blue oceans - markets largely untapped by competition. By focusing beyond existing market demands companies can identify unmet needs (needs beyond lower price or incremental product improvements) and then innovate new solutions which create far more profitable uncontested markets - blue oceans.

Obviously, the authors are not big fans of operational excellence and a focus on execution, but instead see more value for shareholders and employees from innovation and new market development.
Microsoft is a Red Ocean competitor - low end machines are Red Ocean market

If we look at the new Surface 3 we see what looks to be a very good product. Certainly, a product which is competitive. The Surface 3 has great specifications, a lot of adaptability and meets many user needs - and it is available at what appears to be a favorable price when compared with iPads.

But .... it is being launched into a very, very red ocean.

The market for inexpensive personal computing devices is filled with a lot of products. Don't forget that before we had tablets we had netbooks. Low cost, scaled back yet very useful Microsoft-based PCs which can be purchased at prices that are less than half the cost of a Surface 3. And although Surface 3 can be used as a tablet, the number of apps is a fraction of competitive iOS and Android products - and the developer community has not yet embraced creating new apps for Windows tablets. So, Surface 3 is more than a netbook, but also a lot more expensive.

Additionally, the market has Chromebooks which are low-cost devices using Google Chrome which give most of the capability users need, plus extensive internet/cloud application access at prices less than a third that of Surface 3. In fact, amidst the Microsoft and Apple announcements Google announced it was releasing a new ChromeBit stick which could be plugged into any monitor, then work with any Bluetooth enabled keyboard and mouse, to turn your TV into a computer. And this is expected to sell for as little as $100 - or maybe less!

Surface 3 is a Red Ocean strategy product launch

This is classic red ocean behavior. The market is being fragmented into things that work as PCs, things that work as tablets (meaning run apps instead of applications,) things that deliver the functionality of one or the other but without traditional hardware, and things that are a hybrid of both. And prices are plummeting. Intense competition, multiple suppliers and eroding margins.

Ouch. The "winners" in this market will undoubtedly generate sales. But, will they make decent profits? At low initial prices, and software that is either deeply discounted or free (Google's cloud-based MSOffice competitive products are free, and buyers of Surface 3 receive 1 year free of MS365 Office in the cloud, as well as free upgrade to Windows 10,) it is far from obvious how profitable these products will be.

Apple is a Blue Ocean competitor

Amidst this intense competition for sales of tablets and other low-end devices, Apple appears to be completely focused on selling a product that not many people seem to want. At least not yet. In one of the quirkier product launch messages that's been used, Apple is saying it developed the Apple Watch because its other innovative product line - the iPhone - "is ruining your life."

Apple is saying that its leaders have looked into the future, and they think today's technology is going to move onto our bodies. Become far more personal. More interactive, more knowledgeable about its owner, and more capable of being helpful without being an interruption. They see a future where we don't need a keyboard, mouse or other artificial interface to connect to technology that improves our productivity.

Right. That is easy to discount. Apple's leaders are betting on a vision. Not a market. They could be right. Or they could be wrong. They want us to trust them. Meanwhile, if tablet sales falter..... if Surface 3 and ChromeBit do steal the "low end" - or some other segment - of the tablet market.....if smartphone sales slip..... if other "forward looking" products like ApplePay and iBeacon don't catch on......

Comparing Red Ocean competition to Blue Ocean competition

This week we see two companies fundamentally competing differently. Microsoft thinks in relation to its historical core markets, and engaging in bloody battles to win share. Microsoft looks at existing markets - in this case tablets - and thinks about what it has to do to win sales/share at all cost. Microsoft is a red ocean competitor.

Apple, on the other hand, pioneers new markets. Nobody needed an iPod... folks were happy enough with Sony Walkman and Discman. Everybody loved their Razr phones and Blackberries... until Apple gave them an iPhone and an armload of apps. Netbook sales were skyrocketing until iPads came along providing greater mobility and a different way of getting the job done.

Apple's success has not been built upon defending historical markets. Rather, it has pioneered new markets that made existing markets obsolete. Its success has never looked obvious. Contrarily, many of its products looked quite underwhelming when launched. Questionable. And it has cannibalized its own products as it brought out new ones (remember when iPods were so new there was the iPod mini, iPod nano and iPod Touch? After 5 years of declining iPod sales Apple has stopped reporting them.) Apple avoids red oceans, and prefers to develop blue ones.

Which company will be more successful in 2020? Time will tell. But, since 2000 Apple has gone from nearly bankrupt to the most valuable publicly traded company in the USA. Since 1/1/2001 Microsoft has gone up 32% in value. Apple has risen 8,000%. While most of us prefer the competition in red oceans, so far Apple has demonstrated what Blue Ocean Strategy authors claimed, that it is more profitable to find blue oceans. And they've shown us they can do it.

----------------------------

Apple Takes a News Bite: Blue Ocean Strategy in Action or Red Ocean in Motion?

Business Journal - March 27, 2019
By Dr. Phil Osagie, Jsp Communications

Given Apple's sound reputation monopoly and its insanely legendary sense of innovation, when Apple sneezes, the competition catches a cold! With the latest launch of a News Subscription service in a fiercely competitive news market, it is not so clear which side will catch the cold this time around!

Strategy Professors W. Chan Kim and Renee Mauborgne in their best-selling book, Blue Ocean Strategy - How to Create Uncontested Market Space and Make the Competition Irrelevant describe two types of market playing fields: Red oceans, where competition is fierce in bloody waters, strategy centers around beating rivals, and wins are often zero-sum. The cutthroat competition often results in nothing but a bloody red ocean of rivals fighting over a shrinking and shark-infested profit pool

Blue oceans, on the other hand, is where a market space is new and uncontested, and strategy is built around creating a leap in consumer value, thereby making the competitors irrelevant. It is about unlocking new demand and outperforming rivals in a whole new level.

Apple, in an expansive effort to build more services to run on its various devices, has just rolled out a subscription service for news featuring some of the biggest newspapers and magazines.

The company said its Apple News+ (Plus) subscription will include access to 300 magazines, including The New Yorker, National Geographic and InStyle. It will also feature newspapers like The Los Angeles Times and The Wall Street Journal. The subscription will cost $9.99 a month and will start out from the United States and Canada.

Apple describes the new service as News you can trust - All in one place. Apple News promises to "provide the best coverage of current events, curated by editors and personalized for you. Dive into your favorite topics or discover new ones. And stay up to date with rich videos, breaking news notifications, and subscriptions to some of your favorite publications."

The subscription service builds on a free news app that the company released in late 2015 that comes installed on the company's iOS software. Apple said about five billion articles are read monthly on Apple News.

The news subscription is part of a series of announcements of Apple's new services, including a streaming video offering.

The New York Times reported that the new services represent an evolution of Apple's business model. For years, Apple focused mainly on selling hardware products, counting on consumers to upgrade phones and tablets every few years. But as technology and design improvements have become less apparent, demand for the iPhone, the company's flagship product, has flattened.

The company is now shifting its focus to selling content and services for Apple's roughly 1.4 billion active devices, which include Apple TV boxes, Apple Watches, Mac computers and iPads.

Apple already has 56 million subscribers to its streaming music service and it generated $10.9 billion from services in the last quarter of 2018, compared to $73.4 billion of hardware sales.5 billion articles are read on the current Apple News app each month.

Spotify and some other competitors in the streaming business are already screaming foul at Apple's dominant strategy of stifling competitive services and abusing the marketplace power of its App Store.

The question is will this News subscription service be another money spinner for Apple or will it eventually end up as another me-too news outlet?

The news segment is already a bloody red ocean with many entrenched players including Google News, Microsoft News, HuffPost, Flipboard, Reuters News, CNBC and hundreds of others.

Apple is however expected to leverage the Apple brand name, pedigree and psychology marketing to change the rules of the game and redefine the market.