TESLA INC. BLUE OCEAN SUCCESS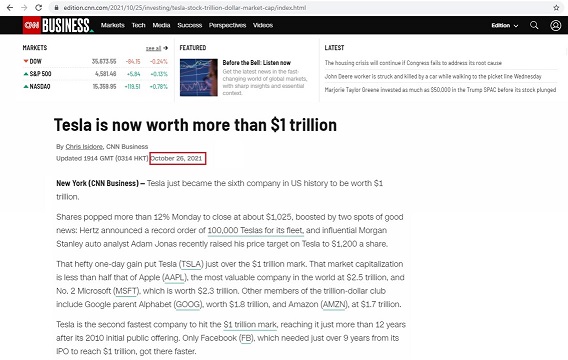 3 Stocks That Followed Blue Ocean Strategy: What's in Store?
Nasdaq
Published: Sep 17, 2015 5:00 AM EDT

In a competitive market, as the battle for survival gets murkier with intense price wars and diminishing technological barriers, companies are increasingly devising newer avenues to outsmart rivals. These include out-of-the-box ideas for innovative product concepts to redefining the corporate strategy within a framework in accordance with the changing dynamics of the customers.

In this regard, 'blue ocean strategy' has been one of the much acclaimed tactical moves adopted by diversified companies to gain a competitive advantage over peers. The term is coined from the book "Blue Ocean Strategy" penned by W. Chan Kim and Renee Mauborgne. Before we seek some classic examples as to how some companies have benefitted from it, let us dig a little deep to get an essence of this strategy.

A Brief Synopsis of the Strategy

The concept exemplifies a typical scenario in the real world, where intense competition leads to bloodbath and thereby renders an ocean red. Instead of viciously fighting against each other to gain market share, companies therefore should create an 'uncontested market space' or rather a blue ocean, which is pristine and pure and devoid of any interference or competition.

The strategy is likely to be successful as it would simultaneously attract a large chunk of customers as well as raise the cost of competition with a first-mover advantage. Whether it's a new product altogether or an existing product refurbished with some added features or services, the uncontested market space is likely to have a better emotional connect and create a new value curve for the customers.

Various companies have successfully found this elusive blue ocean and have been able to fend off competition against the odds. Here we take the examples of three diverse firms to showcase the efficacy of this strategy.

Tesla Motors, Inc. TSLA : This automobile manufacturer that sells battery-charged electric cars created a blue ocean for itself by designing a car that integrates the features of a green vehicle with that of a high-octane driven premium sports vehicle. The company redefined the industry metrics with Tesla Roadster, a lithium-ion battery fuelled car that clocked 0-60 mph in 4 seconds with zero emissions and a sports-car look.

The Roadster hit the markets in 2008 and was the first highway-capable all-electric vehicle in serial production for sale, which eliminated fossil fuel usage and related high maintenance costs. Although electric cars occupy a small portion of the global automobile market, Tesla has acquired substantial market share within this niche segment. Its subsequent car Model S was the best-selling electric vehicle in the U.S. in the first half of 2015.

Tesla delivered a record high of 11,532 vehicles in the second quarter of 2015, representing a year-over-year improvement of 52%. The company anticipates annual sales of 500,000 units by 2020. Thereafter, Tesla hopes to double its production every year for a few years to attain annual sales of several million vehicles by 2025.

Starbucks Corporation SBUX : The speciality coffee provider was able to develop an uncontested market space by redefining the mundane coffee drinking experience into an ingrained way of customer life. This was achieved by refurbishing the ambience with music, Wi-Fi, relaxed seating and luxurious interiors that served a perfect occasion for customers to socialize with friends and relax at a slightly premium price. Along with the unique 'me-time' experience, Starbucks created a new value proposition for its customers with focus on mobility and social media by introducing the Mobile Payments Application.

Starbucks holds a leading position in digital, card, loyalty and mobile capabilities through wide proliferation of smartphones and mobile technologies. At present, more than one-third of all the U.S. and Canada transactions take place through Starbucks cards. At the end of June 2015, the company had over 10.4 million active members in the U.S. under My Starbucks Rewards (MSR) program, up 28% from the last year. Moreover, Starbucks' mobile app is reportedly one of the most widely used mobile payment apps in the U.S.

In an interview, Kim observed: "What they (Starbucks) are really selling is atmosphere. By changing the atmosphere in which coffee is sold, Starbucks created an uncontested market and made the competition irrelevant."

Apple Inc. AAPL : This famed electronics goods manufacturer eked a new chapter in its history by shifting its business from computer manufacturing to disruptive innovations like iPod, iTunes, iPhone, iPad, iCloud. These devices have since been an integral and essential part of our lives.

With ingenious products that are based more on functionality and usability, Apple creates technological innovations that customers least expect, focuses on its unique selling points to build a need and scales up production before competitors could react. This enabled the company to gain a competitive advantage over its peers and create a niche market when supply exceeded demand.

Apple's growth story was perfectly summed up by Kim, when he remarked: "By making a series of blue ocean strategic moves such as iPod, iTune, iPhone, and iPad, Apple not only achieved sustained profitable growth, but also revitalized the declining consumer electronics industry. Apple achieved its success not by investing in what was hot in the marketplace, but by making strategic moves to lead and shape the evolution of a declining industry."

What Lies Ahead for These Game-changers?

In a comparative study, all these stocks have performed relatively better than the benchmark S&P 500 index in the last five years. Tesla recorded a phenomenal 1,204.7% average return, followed by 338.3% by Starbucks and 178.6% by Apple compared with a 73.7% return by the S&P 500. In addition, Tesla has a long-term earnings growth expectation of 25.0%, while Starbucks and Apple have 17.6% and 14.1%, respectively.

These metrics give us enough confidence about the long-term potential of these Zacks Rank #3 (Hold) stocks. Therefore, shouldn't these stocks form an integral part of your portfolio?

-------------

Lancaster University | Management School 2016

Blue Ocean Strategy (for Tesla Roadster)

Tesla's goals are to increase the number and variety of EVs available to mainstream consumers to reduce the dependence upon foreign oil and eliminate emissions. It tried to satisfied customers with higher efficiency and comfort in a relative low price.

In traditional "red ocean" marketplace of vehicle, the market is segmented to many different groups according to different customer demands. In order to satisfied the target group, the vehicle companies need to adjust the attributions of vehicle from size, appearance etc. The "green" car and sports car seems to always focused on two different customer groups in the past. The major feature of green cars was low energy cost, which seems to conflicted with the characteristic of premium sport vehicle. Tesla Motor was the first company to combine these two attributes in one single vehicle model- the Tesla Roadster, which was the first vehicle of the company. It is a fast vehicle with plenty of torque with zero emissions. Tesla created "green performance vehicle" marketplace, it is completely new market which haven't existed before (Chamberlin, 2013). Tesla create this "blue ocean" to itself, where exist large space for it to develop.

Within the current business market, the companies are always involved in fierce competition, due to the development of technology and globalization. Survive and further develop the company seems to be harder than before. As Mauborgne(2005) said, the capacity of an enterprise to move into the blue ocean could be described as the business success. Even if the most popular model of Tesla vehicle is not Tesla Roadster currently, the continuous development of this vehicle model assist Tesla establish high entry barriers in this blue ocean, the first mover advantages that Tesla has are benefit to the development of Tesla as a whole.

-----------
"Blue Ocean" Thinking: Not Just For Elon Musk and Tesla
December 10, 2019
Mike Cioffi, TireTalent.Com

Our industry can be somewhat 'old school' and traditional. How can you, as an independent dealer, 'open up new space' in your market, drive increased demand for what you offer and set your business apart from the competition?

My advice? Look to Elon Musk and the 'blue ocean strategy' that he is applying. Love him or hate him, the controversial entrepreneur recently made headlines when he unveiled Tesla's Cybertruck concept. To date, Musk says Tesla has received 250,000 orders for the truck, despite the fact that it won't be released until 2021.

How did he do it? How can you take this blue ocean approach and make it your own?

First, let's look at what this truck means for the auto industry and what we can learn from Musk's strategy. Despite glitches during the Cybertruck's unveiling, the vehicle is gaining massive press around the world.

This is a one-of-a-kind product and its features are truly impressive. It has a top-notch, four corner air suspension, and Tesla designers also added in a wraparound rock rail, which protects the passenger doors and the rear panels. When it comes to tires, the truck seems to be equipped with products that are well-sized and designed for off-road capability.

So, what does the term 'blue ocean' mean? Put simply, blue ocean is unexplored, new areas of the market.

The blue ocean concept comes from a book of the same name, published in 2005 by W. Chan Kim and Renee Mauborgne, two professors from the European Institute of Business Administration. The idea is that if a business can open up a new space in the market, it will be able to create its own demand and make the competition irrelevant. (In contrast, a 'red ocean' is a crowded market, so packed full of other sharks fighting over fish that the water has turned bloody.)

Kim and Mauborgne challenged their readers to let go of the limitations of industry structure and market boundaries, and value innovation instead.

Blue ocean describes the vast and deep unlimited potential waiting in unexplored market spaces. I believe that Tesla's Cybertruck is an excellent example of blue ocean strategy. It certainly looks different than anything else that has come before it. There are other electric pickup trucks on the market, but the stainless steel construction of the Cybertruck makes it unique.

A lot of the time, Blue Ocean products also are more cost-efficient than anything that has come before them. Tesla has created a very easy entry point for those who want to pre-order the vehicle. All you need to do is make a simple $100 deposit, which is 100% refundable. This is a relatively affordable price for someone to pay for bragging rights that they have a Cybertruck on the way.

Other pickup truck manufacturers are operating within the long-established boundaries of the current market. They are competing in a frenzy in the blood-red ocean, trying to beat each other on fuel efficiency, towing capacity and more. New pickups even look somewhat similar. And their manufacturers seem to be targeting the same type of buyer.

Instead of bringing out just another truck, Tesla did something different by creating this eye-catching and different, futuristic vehicle. Tesla has been able to add new value at a lower cost, at the same time.

How can you take the blue ocean concept and apply it to your dealership?

I would argue that you first must let the current limitations of your red ocean market go and then brainstorm ideas that are completely different - and even, some might say, 'bizarre!'

It's also valuable to seek creative and innovative talent - people who have the ability to see blue ocean potential. A blue ocean strategy can inspire us to think outside the box. Look at the dealers who are innovating in the mobile tire installation space, for example.

As 2019 winds down, I encourage you to leave the red ocean and instead adopt a blue ocean mentality. This will position you for even greater success in the year ahead.

-----

Frontier Strategy

Tesla Motors

Company Snapshot

Tesla Motors is a start-up company based in San Carlos, California. It designs and sells high performance, highly efficient electric sports cars and sedans.

Blue Ocean Strategic Move to Watch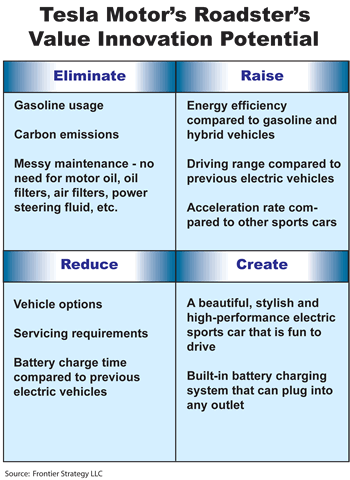 Tesla Roadsters created a big Blue Ocean wave. Tesla Motors has created a stylish, high performance sports car that is 100% electric and more than twice as efficient as today's best hybrids. The company is leveraging existing battery technology to create Value Innovation by reducing costs and increasing buyer value at the same time.

The Roadster accelerates from 0-60 mph in 4 seconds (faster than a Porsche 911) and has a top speed of over 130 mph. Unlike previous electric vehicles, it also has a much wider range (over 200 miles per charge) and can be charged anywhere since it has a built in Li-ion battery system and mobile charger that can plug into any outlet. Best of all, the sports car looks great and uses no gasoline. It creates zero emissions.

Future

Tesla has already sold over 2,300 of its its first vehicle, the Roadster, and in June 2012, delivered its first affordable sports sedan, the Model S. Its goal is to "accelerate the world's transition to electric mobility with a full range of increasingly affordable electric cars." This bold vision is compelling and has the potential to create a huge blue ocean. The sedan's appeal to a larger mass of buyers may allow the company to significantly reduce production costs through scale economies.

------
Transformation Academy
TESLA - A BLUE OCEAN

Tesla Motors is a great example of a blue ocean company. In 2003, they decided to innovate into an areas where there was no competition. Other car makers at the time were making 'compliant' cars, meaning the were making hybrid cars to show they were meeting the government's mandates to be working on 'green' technology. Sales of these products were low because they weren't terribly good and the benefits did not outweigh the extra costs of the hybrid models. Tesla decided to go a different direction and create a 100% electric car, which had been done before. But, Tesla did what others said was impossible. They overcame most people's arguments against electric cars - they're slow, they don't go far enough, and they're ugly. The Tesla is a sports car. It is fast, goes over 300 miles in between charges, and is sexy too! In fact, recent tests show that Tesla has faster acceleration than Lamborghini and Ferrari!

You might be thinking my, "industry doesn't have a blue ocean." Ford, GM, Toyota and the rest of the big car companies didn't either, but they were wrong. They allowed industry norms to hold them back:

They were held back by the notion of the money they thought they would lose if they made electric cars that took sales away from their gas cars. You see, car dealerships and manufacturers make so much money off the repair costs of cars that they don't want electric cars to replace internal combustion engines because electric cars have extremely low maintenance costs. They were held back by their assumption that there was no market demand for electric cars because of the objections people had to them - slow speed, poor range, and ugly aesthetics. They were held back by the powerful established influence of the oil industry who didn't want the car industry to disrupt their profits due to gas-powered engines.

And so, they all continued to compete in the red ocean of the auto industry, refusing to see the possibilities.

Elon musk, the billionaire founder of Tesla, created a blue ocean for electric cars. And, his innovation has planted the seeds of disruption for the entire industry. Not only did Tesla invent an electric car that meets all of the needs of a car driver and avoids the pain points of older electric models, they pioneered the technology of autopilot. Along with other companies, like Google, cars that can drive themselves without any human intervention, and do so with many times greater safety than human drivers, are already on the road. In the near future, autopilot vehicles will be replacing traditional drivers, including those who drive taxis or large commercial trucks. And next, they're coming for average car drivers. As autopilot cars become more accepted into society, many people will choose not to buy a car at all because an individualized form of public transportation will have arrived.

The blue ocean that Tesla created may not always remain blue, which is why ongoing creativity, future anticipation, and innovation are needed in any business that wants to remain successful in the long term.
------------