STEPHANE D'ACREMONT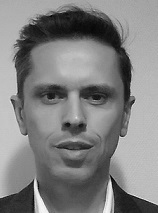 Stephane d'Acremont is Partner & Country Director DAMSON Group (Luxembourg). With 20 years of hands-on experience in strategy, digital strategy, strategy execution, process modeling & optimization, project management, portfolio management, design & management of application development, and operational and IT risk management, Stephane is known for corporate excellence in interdependence & synergies between performance approaches. His experience encompasses diversified corporate ranges including insurance, banking, regulatory, telecom, startup, events, and music & entertainment industries.

Stephane has worked with prestigious organizations including European Parliament, Societe Generale, and BNP Paribas. He has worked as advisor in transformation optimization with actino, and is also project director with Change4Win which is an innovative platform enabling any type of real time transformation. At Cardif Lux Vie, a BNP Paribas Group company, Stephane worked as Project Manager GDPR where he addressed five companies with need to comply with RGPD and successfully reduced regulatory risk drastically and also developed adaptation of the digitalization strategy.

At Societe Generale, Stephane worked as Organization Project Manager. He was mandated with the objective of the bank to improve its operational efficiency. Stephane successfully met the acceleration and cost reduction of all transformation projects and implemented the operational risk management approach. At NCWC, a video streaming company which he co-founded, Stephane managed signing of Euros 240,000 contract with EADS Astrium for the supply of a live broadcasting infrastructure to all sites including an initial broadcast of 3500 live streams on the secure internal network. He applied Blue Ocean Strategy approach to this initiative.

Earlier, Stephane worked with European Parliament and EADS Telecom as Project Manager and has been consultant to Inteliance Consulting.

Stephane did MBAs from University of Miami and EDC, and earned Lean Six Sigma Green Belt from OPEX Luxembourg. He also earned numerous certificates in Audit & Compliance, Operational Risk, Exponential Organization Agile, Learning & empowering organization, and CAMFIN - Capital Markets & Financial Instruments from Institut de formation bancaire Luxembourg (IFBL).