NELA CARAPIC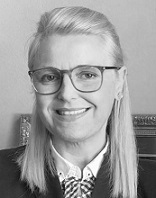 Nela Carapic is Partner & Country Director DAMSON Group (Bosnia & Herzegovina). Nela has been Minister for Social Policy, Health and Displaced Persons and Refugees in Government of Bosnia & Herzegovina from 2013 to 2016, and has also been Minister of Urbanism, Spatial Planning and Environment.
She has also been National Programme Officer and also Public Finance Adviser to The Organization for Security and Co-operation in Europe (OSCE) Mission to Bosnia & Herzegovina. Nela also served as consultant to Regional Environmental Centre (REC) and SOS Children's Villages BiH.
Earlier, Nela also served as Finance and Administration Officer for CARE Nederland and CARE International for the field offices in Gorazde and Bratunac and the head office in Sarajevo. She also managed the Gorzade office of Dutch Relief and Rehabilitation Agency (DRA).
As Minister for Social Policy, Health and Displaced Persons and Refugees, Nela created and implemented social policies and set social welfare services, regulated the functioning and development of the social protection, implemented the right to social protection and social security, determined the right for subventions of social protection cost, established and functioned the child protection system, improved conditions, standards and criteria for eligibility for elderly and infirm people in social care facilities, implemented the health care policy for population of the Canton area, established the health protection of the population in health institutions, and drafted the laws and regulations within jurisdiction of the Ministry preparation.

As Minister of Urbanism, Spatial Planning and Environment, Nela was responsible for administrative and other professional tasks related to spatial planning. She regulated and protected the cultural and historical heritage on the cantonal level, proposed and implemented housing issues including the regulation and provision of housing, organized maintenance of apartment buildings owned by Canton, regulated the conditions for the rehabilitation and reconstruction of damaged and destroyed homes and apartments, supervised the cantonal housing, and proposed and implemented sustainable policies relating to the regulation preserving and improving the environment. She also set the global development strategy of the Federation and Canton, created and implemented various laws including Law on Communal Activities, Law on Non-Profit Social Housing, Law on Physical Planning and Construction, and Bylaw Ordinance on energy certification of buildings. Nela initiated the continuation of activities related to Spatial Plan BPK Gorazde 2008-2028 by establishing cooperation between Technical University in Vienna and University of Sarajevo in best practices exchange, i.e. involvement of CSO and all community in process of creation, importance of proper urban planning to reduce disaster risks.

Nela is graduate in Mechanical Engineering and IT Engineering, and did Masters in Management from University of Sarajevo.