MARIIA SIMCHUK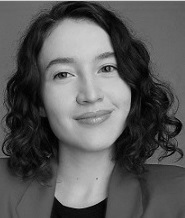 Mariia Simchuk is Partner & Country Director DAMSON Group (Russia). She is Blue Ocean Strategy specialist and has worked with Peter the Great St. Petersburg Polytechnic University, Russia as Marketing & Blue Ocean Strategy specialist Project Manager. In this position, she developed 3 offline business games and 2 online competitions for students about Blue Ocean Strategy for more than 300 participants in total. She was responsible for the development of scenarios, study cases, presentations, additional materials, and promotions. She also created and managed the social media account of the Blue Ocean Strategy competition. Mariia won grant from the government (Russian Academic Excellence Project 5-100) for the organization of the National BOS competition in 2020. At the university, she also successfully completed Blue Ocean Strategy Simulation with $674 Million EBIT and Share price index equal to 1690. She also prepared guidance for future participants and strategy for the use of this simulation in the university.

Mariia also worked as Marketing specialist and Project & Product Manager with International team iNTG for United Kingdom, Germany, and Russia, where she adapted Clarity4D (United Kingdom) personal profiles for the promotion in the Russian market. She created a new way of commercialization, specific for Russian market - adaptive online courses on self-efficacy and team building integrated with Clarity4D personal profiles & iNTG mobile application for building new behaviour habits. She also managed the development of behaviour-changing application 'Values101'. She also managed company's accounts in social networks and the promotion of International BMW Master Coach Olaf Hauer.

Mariia is doing MSc in Technology Leadership and Entrepreneurship from Universite Catholique de Lille & IESEG Business School of Management, Lille, France. She was selected as the 1st place winner of the first in Russia Open Selection Program, obtained full tuition scholarship. GPA: 5.0. Erasmus+ exchange student in Universite Catholique de Lille. She wrote and published 2 scientific papers about innovative methods of teaching students entrepreneurship with the use of Blue Ocean Strategy.

Earlier she did Bachelor of Management with major in Marketing from Peter the Great St. Petersburg Polytechnic University, St. Petersburg, Russia Her thesis was 'Development of the student competition according to the Blue Ocean Strategy'. She wrote and published 3 scientific papers about marketing & implementation of Blue Ocean Strategy in startup development.
In March 2021, Mariia won 2nd place among 73 teams in The Fresh Connection Global Qualification Round. She also won 2nd place in the Russian Case competition on urban development (#URBANSPRINT) with the project 'Center for professional development of citizens' (created with the use of Blue Ocean Strategy).