HASSAN SYED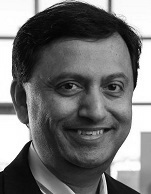 Hassan Syed is Partner & State Director DAMSON Group (Minnesota). Hassan Syed is the Founder of Bir Ventures, developing innovative products from concept to launch. A technologist at heart, he has broad international experience and an impressive track record of converting concepts into successful products. Using his 20+ years of experience in technology leadership, data science, and software product development, Hassan enjoys solving real-world problems.

Hassan's story was recently published by Green Card Voices in their book Green Card Entrepreneurs. He is also recently recognized by Pollen and AARP MN as one of the 50 most inspiring and accomplished leaders across Minnesota. He is a founding director of the Institute for Innovators and Entrepreneurs at Hamline University, and a founding director of Minnesota Innovates.

Hassan's current interests include Artificial Intelligence, 3D Printing and Blockchain technologies, and how their convergence would disrupt the world around us.