CAMILO GAITAN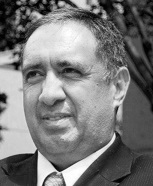 Camilo Gaitan Garcia is Senior Blue Ocean Strategy Consultant with Damson Group (Colombia/ Latin America). Camilo is a professional with significant administrative and commercial experience, proven adaptability to different organizational cultures, capability of responding to changing business environments and leading institutional transformation processes, strong vocation as a trainer with strategic projection and effectively interacting in a global context.

Camilo has been working with Blue Ocean Academy and Blue Ocean Global Network as Associate Professor and Senior Global Expert since the inception of Blue Ocean Strategy by the founders W. Chan Kim and Renee Mauborne. He achieved new growth and profitability (+10%) in very competitive markets such as incontinence pads, corporate events, concrete pipes and higher education offerings, among others, coaching the interdisciplinary executive teams who developed these Blue Ocean innovations.

Camilo also served as Chancellor and Provost at Fundacion Universitaria Panamericana from 2014 to 2019. In this capacity, he slashed teaching hours by half transversalizing curricula, while enhancing multidisciplinarity and improved learning in the classroom, as well as student's interaction in the campus. He also obtained for the first time the ISO 9001: 2008 certification, thus making the university increasingly attractive and trustworthy for good students and proactive employees. He consolidated new sources of revenue, strengthened the cost and expense control, payed all of the institutional debt, and turned around a deficit of US $ 1 million into a US $ 17 million endowment.

Earlier, as Business Management Program Director at Universidad Jorge Tadeo Lozano, Camilo attained the first upturn in five years of admissions and total student population of the program.

In 2003, Camilo founded Tipping for Blue, a Blue Ocean Strategy consulting firm where he was Certified practitioner of INSEAD Professors' Chan Kim & Renee Mauborgne's strategic platform to promote value innovation and profitable growth. Using Blue Ocean Strategy, he grew revenue in more than 10% for Kimberly Clark in Latin America, via the creation and operation of a corporate innovation hub known as KC's Blue Ocean Strategy Institute in Sao Paulo.

Prior to this, Camilo served as Director of Planning & Evaluation at Universidad De Los Andes, where he fine-tuned the financial model on which internal budget allocations were based, to attain sustainability in all the academic units and finance a US $ 50+ million infrastructure development plan. He conducted a successful 'initial conditions' evaluation with SACS with which the University obtained the 'go ahead' for its' first ever international institutional accreditation. He also established close relationships with Deans and Faculty to concrete strategic plans in their units which resulted in a 15% student population growth with none or a minimum increase in expense.

Camilo also served at Unisys Colombia as Government, Health and Industry and Commerce Lines of Business Director, where he redesigned and implemented the new subsidiary's strategy for the LOBs, surpassing sales goals' in between 120% and 150% through the years 1995 to 1998. He also won the first systems' integration business in my LOB (US $5+ million), thus receiving the Rookie Team of the Year award of the region (LACD) in 1996, and being admitted to the WW High Potential Resources corporate program. He was appointed as Capture Manager for the largest business opportunity in the region in 1997 (US $100+ million) at the Registraduria Nacional de Colombia, in which Unisys reached the RFP's shortlist.

As Commercial Vice President of Bogota Power & Light, Camilo was able to slash claims and court proceedings against the company by +50% through the implementation of a new information system and the creation of the first utility Call Center in Colombia, which enhanced customer service whilst controlling potential corruption hotspots. He was also able to reduce consumption by 5% in middle and high income households through rational use of energy awareness campaigns, and the use of energy saving technologies in new installations. He managed to double the goals of illegal access to the energy network reduction (black losses reduction) established by several financial institutions which leveraged the company's operation.

Earlier, Camilo was the MBA Director at Universidad de los Andes (Bogota), Regional Coordinator and Delegate of the National Rehabilitation Plan at the Presidency of Colombia, Assistant of the Planning Vicepresidency of Fundacion Grupo Social (Colombia) and Professor and Researcher at UniAndes, Javeriana, UIS, UniNorte and San Buenaventura (Colombia), Fundacao Dom Cabral (Brazil) and the IPBF (Ecuador), among others.

Camilo Gaitan earned his Bachelor from Colegio San Carlos, Industrial Engineering from Universidad de los Andes (Bogota) and Master of Arts in Development Studies from the Institute of Social Studies (The Hague).

Among many of his honorary appointments, he is Evaluator of the Business and Management editorial line in Editorial Norma S.A. (Latin America), Columnist in Portafolio - Colombia's largest business daily, Member of the Board of Directors of Colegio San Carlos (Bogota), and International Representative to the Board of Directors of the Society for College and University Planning (SCUP) - Ann Arbor, USA.

Camilo speaks Spanish, English and Portuguese.