ALISSAR AL-KHOURY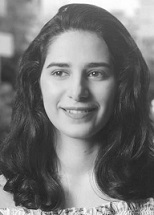 Alissar Al-Khoury is the Partner & Country Director of DAMSON Group (Lebanon). She is a Data & Innovation Analyst and Business and Startup Advisor. She is currently the Innovation Analyst at Nucleus Ventures where she conducts due diligence led research to validate the data provided by participants on the business performance, strategic research that identifies target audience and technological trends, evaluates and helps develop start-ups business plan, and devises go-to-market and commercialization strategy.

Previously she was one of the Innovation Center Advisors to LAU-FMIC. In parallel, Alissar worked as a Data Analysis Officer at the Lebanese Red Cross where she was assigned on a team-based project to assess the current state of the Lebanese Red Cross new Emergency Medical Services Dispatch Center, and to provide recommendations and insights on the optimization of operations. She Analyzed the data sets of calls in the past 12 months and provided individual and team-based insights verbally as well as an interactive decision-centric Dashboard using Tableau that allows for better visualization of the LRC data. She also has extensive knowledge in the logistics sector by serving as Procurement Assistant at the Lebanese American University.

Alissar graduated from the Lebanese American University in Information Technology Management with specialization in Data Analysis and background in Bioinformatics.