PURPLE GOLDFISH STRATEGY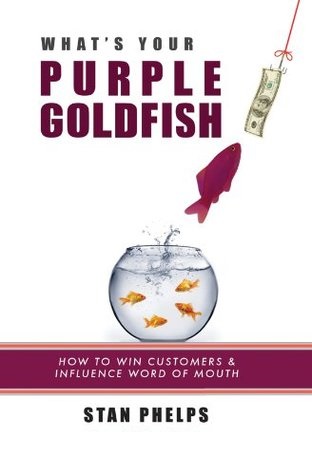 PURPLE GOLDFISH STRATEGY - SUCCESS STORIES
Purple Goldfish Strategy is about how to win customers, influence word of mouth, and developing differentiation via added value. It is a new way of marketing to your existing customers via G.L.U.E. (Giving Little Unexpected Extra). The end result is increased sales, happier customers and positive word of mouth.

Purple Goldfish Strategy helps the brands standing out in a sea of sameness within the competition. It fundamentally aims to change the paradigm of what we do in business and how we do it. It offers 10 ways to attract raving customers. Purple represents 'a little extra' whereas the goldfish stands for 'differentiation'. A Purple Goldfish is defined as any time a business purposely goes above and beyond to provide a little something extra to differentiate the experience and honor the relationship. It is a marketing investment back into your customer base. It is that unexpected surprise that is thrown in for good measure to achieve product differentiation, drive retention, and promote word of mouth.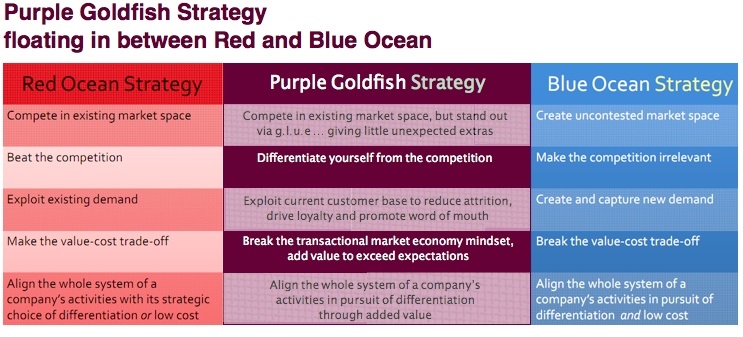 Why Purple Goldfish Strategy is needed.

We have lost focus in marketing. We have been so laser-focused on automating our marketing to prospects that we have forgotten to deliver an exceptional experience once they have become customers. Advertising is no longer the answer. Traditional media is expensive, fragmented, and for the most part ineffective. Customer support is either non-existent or similar to your competition. We are too busy outsourcing it too. We have developed complex loyalty programs that confuse customers and only promise future benefits. What we really need is a concept that differentiates our brand, promotes retention, and generates word of mouth at the time of purchase. We call that concept a Purple Goldfish.

Call to Action
Your brand today is no longer just what you tell people it is. It is what your customer experiences, how they feel, and, most importantly - what they tell others about that experience. The entire premise of Purple Goldfish Strategy is that the customer must come first. Customer experience should be the biggest priority. Stop focusing on 'the two in the bush' (prospects) and take care of 'the one in your hand' (your customer). Take care of the customers you have. When you provide them with a memorable experience, they will bring you the customers you want.

The Strategy has three main components:
1 - (The Why) The case for focusing on customer experience.
2 - (The What) 10 types of Purple Goldfish in the categories of value and maintenance.
3 - (The How) The four-step I.D.E.A. (Inquire. Design. Evaluate. Advance) process for creating a Purple Goldfish.