GAME STRATEGY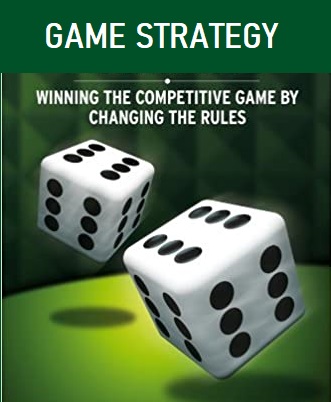 GAME STRATEGY - SUCCESS STORIES
14 Game Theory experts have won the Noble Price in Economics. Game Strategy is the new variant of Game Theory which makes the 'Game of Competition' very interesting.
The competition in the marketplace is a game, no doubt, much like any other game... except for one small, but most significant difference: in the market, some of the players are also the rule makers. From a classic game perspective, these rule makers or Game Changers enjoy an impossible advantage over the vast majority of their competitors who are happy to simply play along by the rules.

Few managers truly understand the fine art of how to control the intangible and somehow enigmatic 'laws and rules' of the competition in the marketplace. And hardly anybody knows about the compelling and proven techniques of how to purposefully change them in their own favor.

The Game Strategy reveals some surprising news: how virtually any company can learn the art of the Game Masters and Game Changers. There are no demanding prerequisites: just get ready to engage in a mind-opening and provocatively different way of thinking.

Conventional business strategies tell you that differentiation, the right positioning, and defining your superior edge will turn you into the 'best player' in your market - but this is wrong. The Game Strategy reveals that success can be achieved by changing the market in which you operate, rather than trying to adjust with the market. The biggest, most spectacular and groundbreaking business success stories feature companies that make the rules of the game - instead of just following them. The best companies seem to know how to break, change, or reinvent the rules of the market that everyone else follows.

Game Strategy:

# Will help you to break through to an entirely new level of thinking: winning the game by changing the rules in your own favor.
# Explains that you do not need a technological breakthrough, product innovation or a massive marketing budget to change the rules of the competition.
# Shows you that you can become a 'Game Changer' and gain a seemingly impossible advantage even over far larger competitors, no matter how large your market or how small your segment is.
# Introduces you to four compelling 'Game Changing Strategies' that work for CEOs from any industry or business sector.

FIRST GAME STRATEGY: REDEFINING THE MEASURES OF PERFORMANCE.
SECOND GAME STRATEGY: RESHAPING THE MARKET LANDSCAPE.
THIRD GAME STRATEGY: RESTAGING THE COMPETITIVE CONFRONTATION.
FOURTH GAME STRATEGY: TAKING THE GAME TO THE NEXT LEVEL.

HOW YOUR BUSINESS CAN PROFIT FROM GAME STRATEGY.

1. Explore the 'Ideas that Rule the Market'.
2. Nothing Can Beat a 'Game Changing Idea'.
3. Game Changers Can Take a Great Degree of Control in the Market - and over Their Competitors.
4. Game Strategy as a 'Behavior Changing' Instrument.
5. Finally . . . Game Strategy Is a Truly 'Democratic' Tool.